Kylie Jenner has been showing off her stretch marks and fans are loving it
13 May 2020, 11:30 | Updated: 6 October 2020, 10:41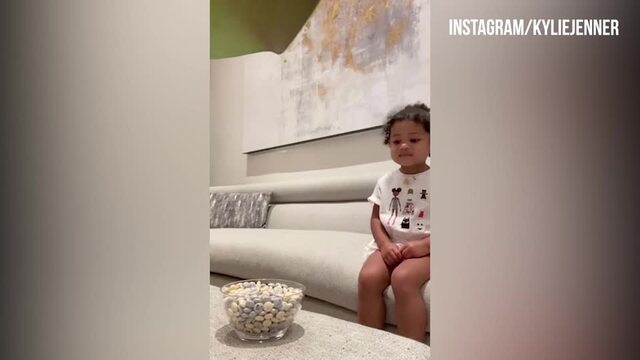 Kylie Jenner gets Stormi to take on the candy challenge and it's adorable
Kylie Jenner has left fans seriously impressed for proudly showing off her stretch marks on Instagram in a body-positive moment.
We have a lot more in common with Kylie Jenner than we first thought. Sure, she may be the world's youngest billionaire and owner of multiple successful brands, but she's recently been taking to Instagram to flaunt her post-Stormi stretch marks.
Yep, believe it or not, Kardashian-types are human too, and the 22-year-old has left fans seriously impressed, after she left her boob marks firmly on show in a bikini pic.
READ MORE: Kim Kardashian broke social distancing rules to get Kylie Jenner to do her makeup
Only last week the world was left confused when seemingly flawless, staged, paparazzi shots of Kylie appeared in the news, after a makeup-free photo surfaced just days before, which gave followers the impression that she may just be feeling a little insecure about being caught off-guard in the moment - but she's putting that firmly to bed with these spicy new shots, and it's safe to say, we're all a little obsessed with how great she looks.
Of course, Kylie only became a new mum for the first time to daughter Stormi just two years ago and she's already dubbed them a "little gift" from her daughter, so this body positive power move is something she should definitely be proud of.
And we're not alone, because fans of the beauty mogul have been taking to social media to praise her for making them feel a little more normal in these uncertain times...
Kylie Jenner has stretch marks on her boobies, and idk why but this makes me feel like it's okay that I too have stretch marks

— 🌙 (@mystic_lee) May 12, 2020
Kylie showing her stretch marks on IG stories. That's a nice change for the Kardashian/Jenner family.

— Kiwanie Navarro (@kiwaniee) May 11, 2020
@KylieJenner showing her boobs' stretch marks and having no issue with it!!! ♥️♥️ you go girl

— fer (@kylieIands) May 11, 2020
She's already spoken about her stretch marks in a YouTube video shortly after giving birth, telling fans how she embraces them, despite not revealing them to the world until now: "I have stretch marks on my boobs. My stomach isn't the same, my waist isn't the same, my butt's bigger, my thighs are bigger….I snapped back pretty fast but it was never the same and still isn't. Once I accepted the change, my confidence came back. It just takes time."
Kylie has also previously been praised for showing off the scar on her thigh she got in an accident when she was five, playing hide and seek with Kendall. She's shown it off multiple times during photoshoots and on magazine covers, and her new Stormi-induced stretch marks are the perfect addition for reminding us she's just as human as everyone else.
Go Kylie!
READ MORE: Kourtney Kardashian deletes Mason's Instagram after he posted about Kylie Jenner's private life