Lili Reinhart thinks the Met Gala won't invite her back after her Kim Kardashian dress remarks
27 October 2022, 16:44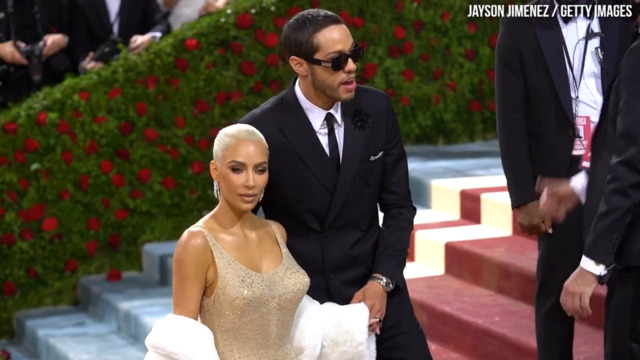 Kim Kardashian and Pete Davidson attend Met Gala
Lili Reinhart previously called out Kim Kardashian for "starving" herself to fit into Marilyn Monroe's dress.
Lili Reinhart has said that she doesn't think she'll be invited back to the Met Gala after calling out Kim Kardashian this year.
Earlier this year, Kim Kardashian made headlines after she revealed that she lost 16 pounds in three weeks to fit into Marilyn Monroe's dress at the Met Gala. Speaking to Vogue about it, Kim said: "I would wear a sauna suit twice a day, run on the treadmill, completely cut out all sugar and all carbs, and just eat the cleanest veggies and protein. I was so strict."
Lili Reinhart then criticised Kim and said: "To walk on a red carpet and do an interview where you say how starving you are, because you haven't eaten carbs in the last month... all to fit in a fucking dress? So wrong. So fucked on 100s of levels. Please stop supporting these stupid, harmful celebrities whose entire image revolves around their bodies."
Now, Lili has opened up about attending the Met Gala, her comments about Kim and whether she'd go to the Met again.
READ MORE: Kim Kardashian says some people didn't know who Marilyn Monroe was before she wore her dress
Speaking to W Magazine about the 2022 Met Gala, Lili said: "That was fun. But after going again this year, I don't think I'll be invited back. I said a certain something about a certain person in a certain dress." While she doesn't mention Kim by name in the interview, her comments line up with what she said about Kim and the news articles that her comments inspired.
Expanding further on why she said what she said after the Met, Lili told W: "I have always wanted to stand for something. While I don't like it if one comment by me turns into 17 articles in People magazine, I never overthink what I post." She added: "It has to be a true representation of how I feel. I would say that whether I had 100 followers or 100 million."
As it stands, the Met Gala is yet to reveal whether or not Lili will be invited back next year and we likely won't know until it happens next May.
What do you think? Was Lili right to call Kim out?
Sofia Wylie & Sophia Anne Caruso Pick Their Own Interview Questions | The School For Good And Evil