Madison Beer claps back at body-shaming troll in the most iconic way
25 July 2023, 14:23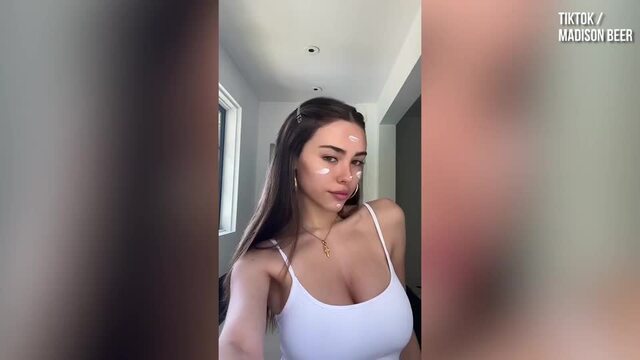 Madison Beer shows fans her skincare routine
The troll told Madison to do cardio to lose weight.
Madison Beer does not tolerate bullshit. She has just clapped back at a troll who body-shamed her in the most savage way.
Despite the ongoing body positivity movement, we unfortunately live in a society in which people still make comments about other people's bodies. This year alone, stars including the likes of Ariana Grande and Selena Gomez have called out people for body-shaming them. Ariana said: "I think we should be gentler and less comfortable commenting on people's bodies."
Now, a troll has body-shamed Madison Beer on Instagram and her response has now gone viral.
READ MORE: Madison Beer appears to confirm Olivia Rodrigo's Vampire is about Zack Bia
On Sunday (Jul 23), Madison took to Instagram to post a series of gorgeous selfies with her dog and the caption: "lazing on a sunday afternoon". The post quickly racked up over a million likes with fans loving Madison's fit and makeup.
However, it wasn't long before someone bodyshamed her in the comments. A troll wrote: "hey madison ive noticed that ur legs and arms are getting fatter. Please do some cardio because we men only like skinny girls."
If that weren't ridiculous enough, the toll added: "Ur face is already perfect, but please we love a thin-waisted girl."
Noticing the comment, Madison quickly put the troll in their place. She replied: "I wouldn't touch you with a 10 ten foot pole if you paid me a million dollars." The fan and Madison have since deleted their comments.
Nevertheless, people have rushed to Madison's support on social media. One fan tweeted: "I'm taking this as my sign to start listening to Madison Beer cause oh my god the icon she became in that sentence. My respect for her is now like boosted by a million and one."
Others took to Madison's Instagram post to share love in her comments. One fan wrote: "Can't believe some dudes feel they have the right to comment on someone else's appearance. Keep slaying."
Another said: "Madison Beer you are gorgeous no matter what."
Stop commenting on other people's bodies challenge!
Read more Madison Beer news here:
The Witcher Cast Interview Each Other | PopBuzz Meets