Noah Schnapp hilariously roasts the reaction to him coming out as gay
9 January 2023, 12:02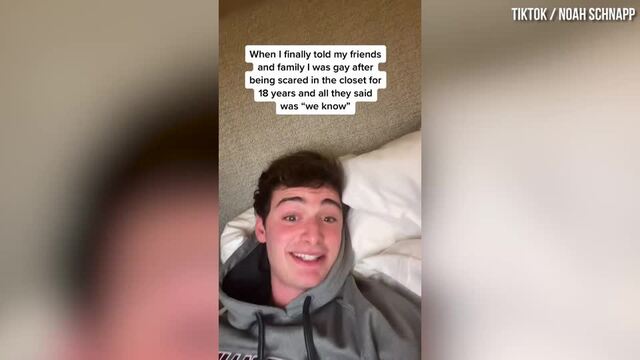 Noah Schnapp comes out as gay
"Noah Schnapp, gay at 18!"
Noah Schnapp's response to the reaction about him coming out as gay? Iconic, actually.
In case you missed it, Stranger Things star Noah came out as gay in a TikTok posted last week. In the clip, which has now been viewed over 67 million times, Noah wrote: "When I finally told my friends and family I was gay after being scared in the closet for 18 years and all they said was 'we know'."
The reaction to Noah coming out has been massively heart-warming, with fans and friends congratulating him and sending him sweet messages on social media.
Now, Noah has taken to TikTok to lightly roast the reaction in a new video shared by one his friends.
READ MORE: Noah Schnapp responds to criticism over Will's sexuality storyline in Stranger Things 4
As well as liking a few tweets and comments from fans on social media, the Stranger Things star also decided to poke fun at the whole reaction by referencing the recent trend where people tell their parents their favourite celebrity has died.
In a TikTok video posted to one of Noah's friends' accounts (@meltyiceycubey), a group of teenagers are sat together as one of them shouts, "Noah Schnapp, gay at 18!" The group then erupts in screaming and shock, before the camera pans round to show Noah himself screaming at the news.
Fans are absolutely living for the video, which now has over 2 million likes. "Noah is so self aware I'm OBSESSED," one TikTok user wrote. Another added: "Him actually being there and acting the most shocked is HILARIOUS."
Bretman Rock even left comment, saying: "AT 18!!!!!!! He was so young"
(Elsewhere, Noah also liked a tweet from a fan who shared that they were in Bikini Bottom when they heard about his coming out. Iconic.)
In Noah's original coming out video, the actor captioned his post: "I guess I'm more similar to Will than I thought."
Back in July, Noah responded to criticism of Will's storyline in Stranger Things 4, in regards to the character's sexuality.
In response to a now deleted video calling the storyline "disappointing" and "vague", Noah wrote: "First of all, it's the 80s and the kid's a FRESHMAN in [high school]. Let them slowly develop the plot and when he does come out, it will be really special and real."
Stranger Things 5 is set to put Will back at the forefront of the show, and Noah has already teased that "they did a great job with Will's character this season, and beautifully addressed everything they needed to".
Glass Onion Cast Take On A Chaotic Mystery Interview | PopBuzz Meets