Penn Badgley reacts to fans wanting to see his feet in the funniest way
19 July 2023, 12:17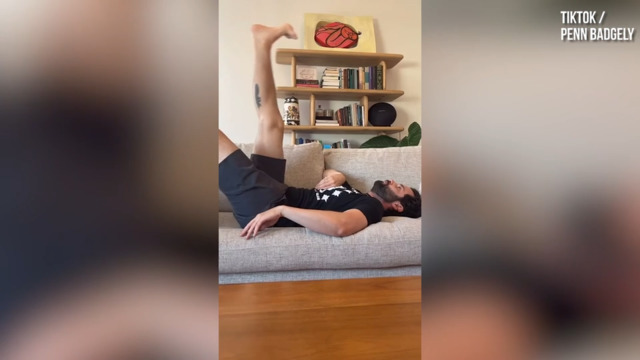 Penn Badgley reacts to fans always commenting on his feet
Penn Badgley has revealed that he gets hundreds of request for feet pics in his TikTok comments.
Ever wanted to see Penn Badgley's feet? It turns out a lot of fans ask him for feet pics and he's reacted in the funniest way.
Penn Badgley is known for a lot of things. From his breakthrough role as Dan in Gossip Girl to his take on serial killer Joe Goldberg in You, Penn has been on our TV screens for years. He's also had key roles in films like Easy A and John Tucker Must Die.
On top of that, Penn hosts the Podcrushed podcast in which he asks celebrities about their middle school experiences.
Penn also has a big following on TikTok where he gets a lot of feet pic requests. Now, he's giving fans what they want.
READ MORE: Penn Badgley says You can't end with Joe Goldberg being killed
Yes. If you have ever wanted to see Penn Badgley's feet, now's your chance. Taking to TikTok, Penn has posted a new video with the caption: "How many times my feet come up in the comments". It's currently been viewed over 1.2 million times.
In the video, Penn quotes Michael Cohen's viral TikTok sound and says "quite a few times". Penn's Podcrushed co-hosts Nava Kavelin and Sophie Ansari then suggest 50 times, 100 times, 200 times and 500 times before Penn says "probably" and films himself twiggling his toes. Penn also gives fans several shots of his feet throughout the video.
Reacting in the comments, one fan wrote, "FOR FREEEEEEE?????," and Penn replied: "I'm a populist." He also corrected a fan who said they liked his pineapple leg tattoo by writing: "It's a feather but either way eh."
So there we have it. If you want to see Penn's feet, he's got you covered.
Read more Penn Badgley news here:
The Witcher Cast Interview Each Other | PopBuzz Meets