Regé-Jean Page named 'Most Handsome Man' according to science
27 January 2023, 17:13 | Updated: 27 January 2023, 17:15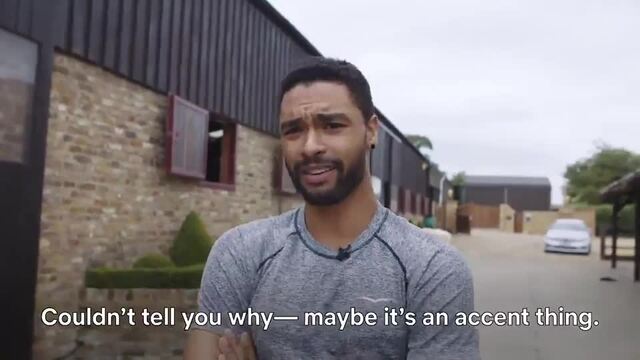 Regé-Jean Page trains to ride a horse for Netflix's Bridgerton
"Regé won because of his classically beautiful face and gorgeous brown eyes."
It's that time again: The world's most handsome man has been revealed... and former Bridgerton star Regé-Jean Page has taken the crown.
It's not based on a poll or popular vote, though. It's apparently based on scientific equations. The results of 'Most Handsome Man' are based on the Golden Ratio of Beauty Phi devised by mathematicians in Ancient Greece.
Basically, the Golden Ratio is based on the ancient Greek's idea of perfection, and how each element of the face is measured for physical perfection and symmetry. It claims that "the closer the ratios of a face or body are to the number 1.618 (Phi)", the more beautiful someone is.
But who did Regé beat? See the full list below, that includes Robert Pattinson, Chris Hemsworth and Harry Styles.
READ MORE: Regé-Jean Page says Bridgerton can recast the Duke if they want to
The list was compiled by Harley Street facial cosmetic surgeon Dr. Julian De Silva, who uses the latest computerised mapping techniques in his work.
Explaining why Regé topped the list, Dr. De Silva told the MailOnline: "Regé won because of his classically beautiful face and gorgeous brown eyes."
"He had easily the highest score for his eye spacing and the positioning of his eyes also scored highly. His perfectly shaped lips also scored highly and the only mark he got that was slightly lower was for his nose width and length."
The full top 10 list is as follows:
Regé-Jean Page - 93.65%
Chris Hemsworth - 93.53%
Michael B. Jordan - 93.46%
Harry Styles - 92.3%
Jude Bellingham - 92.22%
Robert Pattison - 92.15%
Chris Evans - 91.92%
George Clooney - 89.91%
Henry Golding - 87.98%
Dwayne Johnson - 86.07%
The list is almost completely different from Dr. De Silva's list from 2020. Robert Pattinson, who was number 1 in 2020, has fallen all the way down to number 6. George Clooney also slipped from fifth in 2020 to eighth in 2023.
Meanwhile, Henry Cavill, who came second in 2020, doesn't even feature. Bradley Cooper, Brad Pitt, Hugh Jackman, David Beckham, Idris Elba, Kanye West and Ryan Gosling are also no longer considered handsome, apparently!
Margot Robbie & Diego Calva Pick Their Own Interview Questions | Babylon | PopBuzz Meets