Selling Sunset's Christine Quinn responds to pregnancy rumours
11 August 2020, 17:27 | Updated: 24 November 2021, 21:24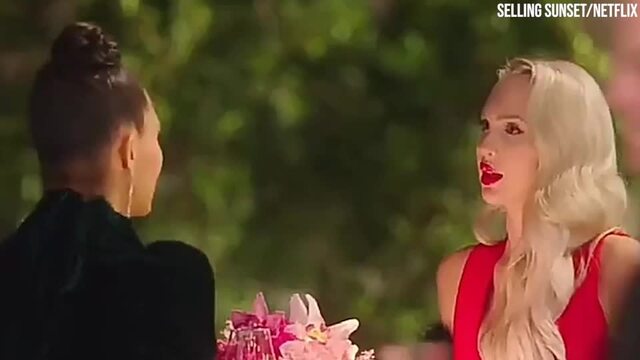 Selling Sunset's Christine Quinn calls out Amanza Smith over drama with Mary Fitzgerald
Are Christine Quinn and husband Christian Richard expecting a baby?
If, like us, you've whizzed through the entire third season of Selling Sunset then, welcome, you're not alone. Season 3 ended with Christine Quinn's wedding featuring her jaw-dropping black bridal gown and we see all the planning and anticipation leading up to the big $1 million bash.
Christine married tech millionaire Christian Richard in December 2019 and the ceremony was as over-the-top as you'd expect from Christine, with real black swans and a bleeding cake, taking place in a gothic cathedral.
READ MORE: Selling Sunset season 4: Release date, cast, spoilers and news
Before the wedding, Christine complained about being ill, with her fellow Selling Sunset cast members speculating that she might be pregnant. Whilst speaking to Heather Rae Young and Davina Potratz, Christine said that her wedding dress wasn't fitting her properly.
"Like my boobs are fucking huge, and they're having to like, alter and change everything," she said. Christine also said she had been experiencing nausea and throwing up in the lead up to the wedding.
Davina pointed out that Christine's changing body and symptoms were all indications that she might be pregnant. Heather then asked Christine whether she was expecting, which she denied. "She's in denial," Davina said.
In a confessional, Heather joked that Christine wasn't ready for a baby and would probably need an army of nannies to help her out before she even considers starting a family.
Is Selling Sunset's Christine Quinn pregnant?
There's no way you could tell, but Christine was incredibly sick on her wedding day – but it wasn't morning sickness. She actually discovered that she had contracted coronavirus before her wedding day.
"I was really, really sick on my wedding day. I actually had what I now know is corona," she said on Goss Chats' Instagram Live. "I got really sick in late December and we were traveling, and I was sick for about a month when we were filming. I couldn't even have a bachelorette party. I was so bummed about that because I was so sick."
She hasn't ruled out the possibility of starting a family with her husband soon, though. Speaking to Metro.co.uk, Christine said: "I absolutely love kids, I want two, I would love two boys. I can't even imagine like trying to tame a little Christine. I always wanted two little boys just because I'm actually like quite a tomboy myself… Obviously we want to travel first, but then after that we'd love to start a family."
Well, there you have it, no mini Christine's and Christian's will be gracing our screens in time for Selling Sunset Season 4, but watch this space.
READ MORE: QUIZ: Build your dream home and we'll reveal which Selling Sunset agent you are