Sophie Turner's resurfaced "Homebody" comments go viral amid Joe Jonas divorce claims
7 September 2023, 15:51 | Updated: 7 September 2023, 15:53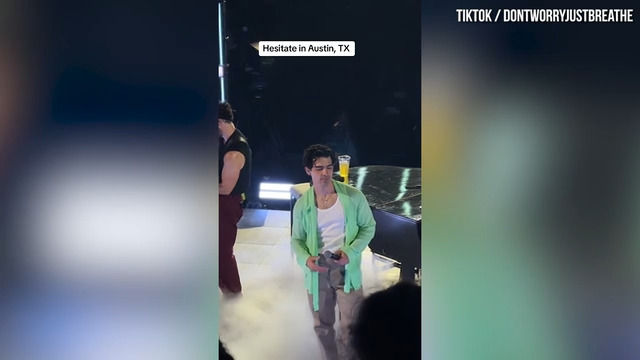 Joe Jonas performs Hesitate live following Sophie Turner split
Fans are coming to Sophie Turner's defence over comments that have been shared by 'sources' to media outlets amid her divorce from Joe Jonas.
As you've probably seen, Joe Jonas and Sophie Turner are divorcing after four years of marriage.
On September 5th, TMZ reported that Joe filed for divorce, and the couple confirmed the sad news with a joint statement posted on both of their Instagram accounts.
"After four years of wonderful marriage we have mutually decided to amicably end our marriage," the statement reads. "There are many speculative narratives as to why but, truly this is a united decision and we sincerely hope that everyone can respect our wishes for privacy for us and our children."
The "speculative narratives" mentioned in the statement appear to refer to the countless quotes that have been shared with the media by unnamed sources. The majority of those appear to paint Sophie in a bad light, including one that told TMZ: "She likes to party, he likes to stay at home."
Fans have now dug up one of Sophie's old interviews were she calls herself a "homebody", and have called out the unnamed sources at the same time.
Back in 2020, Sophie sat down for a Zoom interview with Conan O'Brien. Speaking about how she was coping with lockdown in the pandemic, Sophie said: "Yeah, I'm an introvert. I'm a homebody. I'm just like, if I could stay home all day I would, so this is great for me. I leave the house, like, once a day anyway, to walk my dogs, and then that's it."
She went on to add that Joe was actually the "real social butterfly" of the two, saying: "So I struggle to lock him down and have him just spend time with me. It's like prison for him, but it's great for me."
Fans have also resurfaced an old TikTok video posted by Joe, where the two agree that Sophie is the homebody.
#ConanAtHome: Sophie Turner Full Interview | CONAN on TBS
The contradictions between the source's quote and Sophie's actual comments have prompted fans to urge social media users to take any comments from 'sources' with a pinch of salt. They've also questioned why the 'sources' are trying to spin a negative narrative against Sophie.
Fans have been coming to Sophie's defence over the claims. On Twitter, one user wrote: "the way the media has been portraying sophie turner after the divorce was announced is so weird.. she needs to get behind me immediately."
Another, pointing out the contradictions between Sophie's old interviews and the angle of the quote, added: "Lmao anyone who has followed these two over the years knows how false this headline is."
i love joe jonas as much as the next girlie but between drinking on stage and doing his little dj events you cannot tell me he doesn't party l o l

this is just a bad attempt at framing sophie to be some careless mother and that's not it for me!! https://t.co/iOti90mffm

— kelsey barnes (@kelseyjbarnes) September 5, 2023
Sophie has reportedly been in the UK filming her new TV project, while Joe is currently on tour with the Jonas Brothers. Their two young daughters have stayed in the US with Joe.
READ MORE: Joe Jonas gives emotional Hesitate performance amid Sophie Turner split reports
READ MORE: Taylor Swift's Better Than Revenge lyric change sparks Joe Jonas 'moth' memes
READ MORE: Sophie Turner's deranged cocaine scene in Do Revenge is Oscar worthy
Olivia Rodrigo vs. 'The Most Impossible Olivia Rodrigo Quiz' | PopBuzz Meets