Tom Holland's unbelievable story about swimming with killer whales goes viral
12 July 2023, 13:54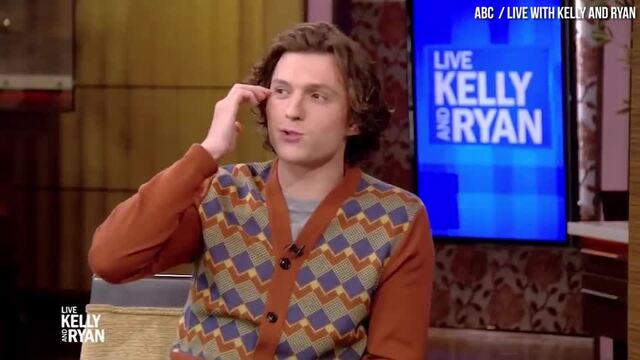 Tom Holland's mum called Marvel to demand he had more toilet breaks
"As soon as I saw the whale, I wasn't scared anymore because I could just tell that it wasn't going to eat me."
Thank God the Great Orca Uprising of 2023 is happening now rather than last year because after hearing about Tom Holland's wild encounter swimming with the whales, we're not entirely sure Gladis and her fellow orca comrades would have let him off so easily.
Tom was a guest on On Purpose with Jay Shetty recently, where he spoke candidly about his mental health, his current relationship with alcohol and sobriety, his career so far and everything else in between.
During the chat, Tom touched on his love of travelling and nature, and he shared an incredible yet equally hilarious story about his wild encounter with a pod of killer whales.
If you've been keeping up with orca-related news recently, then you'll probably know all about the recent trend of groups of orcas attacking boats at sea. Thankfully, Tom walked away from his personal experience in one piece and with a pretty memorable story.
READ MORE: Tom Holland fans call out 'jealous' memes after Zendaya's Challengers scene goes viral
The chat about killer whales begins around 1 hour and 23 minutes into the episode. While discussing the need for "proof" when recounting stories about the crazy situations Tom sometimes finds himself in, the actor shared his recent experience swimming with orcas.
"It was one of the most humbling experiences of my life. There's no proof it, there's no evidence, because it was so off the cuff," Tom said. "We weren't planning on doing it so most people I tell are like, 'you definitely didn't do that'."
Tom then explained that while they were on a boat trip in Mexico, they came across a pod of orcas and his security guard Jack thought it'd be a good idea to jump in and swim with them. The boat ended up speeding off, leaving Jack in the water with the whales swimming around him.
When they picked Jack back up, Tom said he told them they should jump in, while his brother Harry was frantically googling whether or not it was safe to do. "The general consensus online is 'Don't go swimming with killer whales'. You can, there's never been a recorded attack in the wild, but they are wild animals, and they're also as big as a bus..." Tom said.
TOM HOLLAND Gets Vulnerable About Mental Health & Overcoming Social Anxiety
In the end, Tom actually did jump in with the rest of the group, adding that thankfully, the whales had dispersed and were no longer swimming alongside the boat. But they hadn't disappeared completely...
"We looked down and it came from beneath us," Tom then continued. "And what has been such an interesting experience for me...As soon as I saw the whale, I wasn't scared anymore because I could just tell that it wasn't going to eat me."
"I don't know how to explain it. You could just see from its body language," Tom said. "I remember it so vividly. It swam up to us, it was maybe 10 metres below us and it was kind of motionlessly looking at us. You could see its eye. We were having this crazy moment and then it just swam off and it was gone. And then for three hours after I couldn't speak. I had the biggest adrenaline dump."
All of this happened 30 miles away from the coast too, so if anything did go wrong, there wasn't much they could have done about it. However, after watching Our Planet and seeing the ways in which killer whales hunt, Tom admitted that he would never jump into that situation ever again.
Gladis the Orca has yet to release a statement on Tom's encounter with her cousins in Mexico.
The Witcher Cast Interview Each Other | PopBuzz Meets