Wizards of Waverly Place star Dan Benson expected "a lot more hate" for doing porn
27 June 2023, 17:45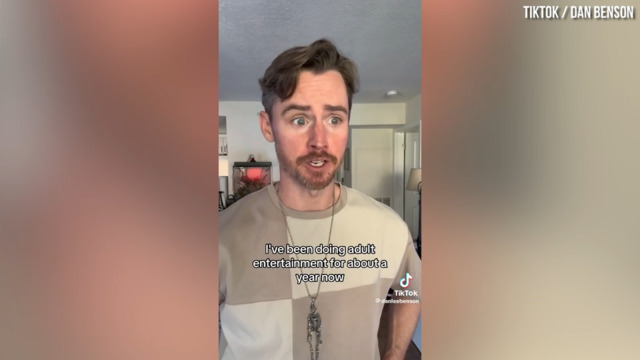 Wizards of Waverly Place star Dan Benson reveals what working in adult entertainment is really like
Dan Benson has opened up about what working in the adult entertainment industry is really like.
Wizards of Waverly Place actor Dan Benson says he expected "a lot more hate" for joining the adult entertainment industry.
Earlier this year (Jan 7), Dan Benson, who is best known for playing Harper's love interest Zeke in Wizards of Waverly Place, went viral after posting a TikTok video about becoming a porn star. Dan explained that he "tripped and fell into doing adult entertainment" after his nudes were leaked online. He also said he's been having "a tremendous amount of fun" in porn and with his OnlyFans page.
Now, Dan's revealed that he's been asked to do things he doesn't feel "comfortable" doing since becoming a sex worker.
READ MORE: Jennifer Stone reveals Selena Gomez declined a Wizards of Waverly Place spin-off
Opening up about how working in adult entertainment has affected his mental health in a new TikTok video, Dan said: "I'm the actor who played the character of Zeke Beakerman on Wizards of Waverley Place. Mental health check-in – I've been doing adult entertainment for about a year now."
Dan then explained: "My first reaction is…confusion. Because, I expected a lot more hate and instead people have just been like 'go you!' Empowerment, which is awesome. Mental health-wise, I feel good. I don't feel bad about myself. I feel kinda like a badass a little bit."
Getting more candid, Dan admitted that it isn't always fun. He said: "Now, there are plenty of people on a daily basis asking me, demanding I do things that I don't feel comfortable doing."
He continued: "But, I've kinda been in a position to be like 'no, you're gonna get what I'm comfortable sharing with the world, which now is quite a bit."
Dan ended the video by saying: "So, anyway, I'm feeling good, I'm excited about the future, and I don't really feel bad about my decisions at all. If you checked out my stuff at all, thank you so much...You guys are amazing. I hope to see you out in public, and if you do, give me a big hug, because so many people have been doing that lately."
Read more Wizards of Waverly Place news here:
Leigh-Anne Picks Her Own Interview Questions | PopBuzz Meets