This Cello/Pole Dance Cover Of "Crazy In Love" Is Way Sexier Than "Fifty Shades Of Grey"
17 February 2015, 11:07 | Updated: 8 May 2017, 17:09
Cellist David Chen and dancer Danaë Montreuil team up for this gorgeous Beyoncé cover.
The movie adaptation for Fifty Shades Of Grey debuted in cinemas over the weekend; and as we predicted, its only real redeeming quality is its soundtrack. Excellently sexy musical contributions from The Weeknd, Ellie Goulding, and even Beyoncé kind of almost save an otherwise thoroughly unsexy cringefest of a movie.
So while the bar is pretty low to exceed the sensual factor of this inevitably horrible franchise, the unlikely duo of cellist David Chen and professional pole dancer Danaë Montreuil somehow nailed it in just 3 minutes.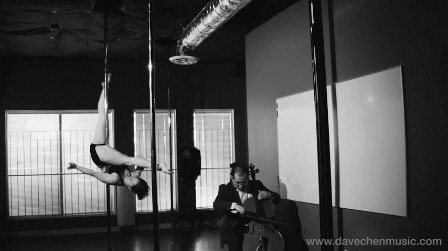 In the gorgeous tribute video below, David plays a demurely thoughtful looping cello arrangement of Bey's Fifty Shades remix of "Crazy In Love", While Danaë accompanies him with a sultry performance on the pole.
It's subtle, it's noir, and it's fifty shades sexier than anything from the movie. Also it makes me want to do some crunches at my desk; this lady's got some serious core strength.
Dave's been steadily developing a reputation for his looping cello arrangements. Scroll on to listen to some classy covers of Meghan Trainor's "All About That Bass" and The Killers' iconic "Mr. Brightside".