"The Colbert Report" Gets An All-Star Musical Send-Off For Its Finale
19 December 2014, 13:39 | Updated: 8 May 2017, 17:09
Jon Stewart, Bryan Cranston, and even Big Bird sing their goodbyes to Stephen Colbert's character "Stephen Colbert".
Stephen Colbert said goodbye to his show The Colbert Report last night, as he moves on to pastures new to take over for David Letterman in the world of late night television.
The satirical political show ended its nine-year run on Comedy Central last night with a heartfelt rendition of Vera Lynn's "We'll Meet Again", where Stephen was joined by friend, collaborator and arch-rival Jon Stewart...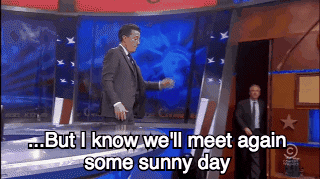 ...and as we heard from the screams of the audience, a whole bunch of other stars. Quite possibly almost everyone who has appeared with Colbert during his run.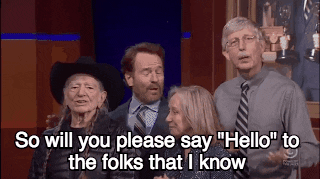 It's the happiest kind of goodbye... But not even Cookie Monster could compensate for the internal misery of James Franco and Michael Stipe.
But it's truly impressive just how many people wanted to get involved to send Stephen on his merry way; other contributors who were there in spirit included Bill Clinton, soldiers in Afghanistan, and a jogging astronaut in space.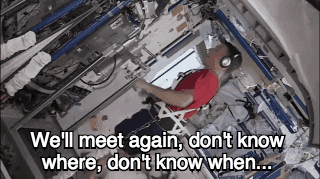 Even if you aren't a fan of the show of the show, this is a spoiler-free finale that you'll definitely appreciate, just for the general warm bittersweet fuzziness of it.
One more time: "STEPHEN, STEPHEN, STEPHEN..."