Mary Poppins Singing Death Metal Is Something Quite Atrocious
26 February 2015, 15:50 | Updated: 8 May 2017, 17:09
This "Supercalifragilisticexpialidocious" rework is practically punk in every way.
It seems like that sort of week where everything from our childhood is getting some crazy sort of reboot or mashup. And as it turns out, not even Mary Poppins is safe.
YouTube user Andy Rehfeld has arranged an, er, alternative new version of the iconic song "Supercalifragilisticexpialidocious" (didn't even need to luck up the spelling of that, check me out). Julie Andrew's clipped theatrical voice has been swapped out for some seriously badass lady-growling from Sera Hatchett, vocalist of metal band Mercy Brown. Throw in a new and angry metal backing track, and what do you get? Pretty much this: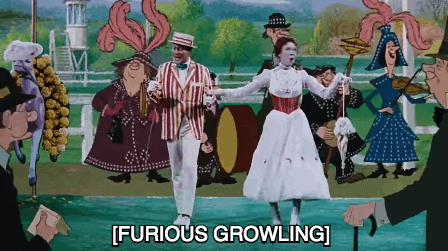 That's not even an exaggeration. But what frustrates us the most is just how good it actually sounds.
(We really hope to see these gifs out of context some day).
Check out the full unbridled Disney-fuelled fury below:
And that's not all; Andy actually has a regular habit of creating genre-smashing videos that seem to turn into complete jams, defying all possible logic. Check out another one of his recent uploads: A polka-metal (yep, it's a thing) version of "Shake It Off".