We Went To A First Listen Of Demi Lovato's "Confident" And Here's What Happened
8 September 2015, 15:59 | Updated: 8 May 2017, 17:09
OMG
As we know, Demi Lovato is having a bit of a moment. Her latest single "Cool For The Summer" is pretty much our summer jam, and inspired us to basically go out and make out with loads of people. It's hella sexy and hella good.
So imagine our delight when we were invited to head down to a hotel and sit in a strange movie-theatre-like room and listen to some songs from the singer's upcoming fifth studio album Confident. The thought was enough for us to don our sexiest leotard and re-create this.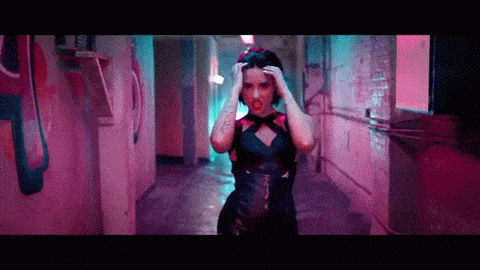 We later found out that Demi herself would be there to chat through the five songs that we were about to hear, and that's when we pretty much lost it.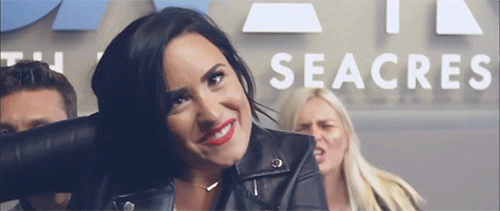 So off we headed today (8 September) to go and sit in a room with our fave and experience some of Confident.
Speaking about the themes behind the album, Demi said that this was "her in music form". She even jokingly said, referring to the album cover, that rather than showing off more skin, she was "shedding her insecurities and showing her true self...or my vagina."
She also spoke about how she felt bogged down by her past battles and how she felt her "sob story" had begun to define her as an artist. Instead, Confident was what she had been working her whole career to make. It was all quite exciting, and this is when we were played the music.
Here's what we made of the five songs we heard...
"Confident"
The first song we were played was the title track "Confident", and it is full of horns and cheerleading percussion. We were also watching Demi throughout the playback and she was l.i.v.i.n.g. for this song. She even asked the sound people to turn it up.
Compared to the 'leak' that appeared a few weeks back, this version sounded a bit more polished. Regardless, this song is a banger and certainly sets the tone for the album. And, when asked about the video, Demi slyly let slip that the clip was all about "strong women". Our faves!
"For You"
Demi described this one as a "power ballad from the future", and good grief it's certainly that! According to Demetria, this was the first song that the singer worked on with Max Martin, and it incorporates rocky vocals, soulful trills and a sh*t loads of pop production. We've written in our notes that the pre-chorus was amazing, and noted a bit in the chorus where Demi sings "I put my fist through a wall", which we thought was good. The middle-eight was super spacey, too, and there were some MAJOR vocals towards the end. Runs and trills for dayz! In fact, we'd go so far as to call this the best from the bunch.
"Lionheart"
Before we were played this song, Demi spoke about how she wrote it a year ago, but how, after the tragic death of her puppy, Buddy, the song had taken on new meaning. The poor thing started crying before the song started to play. It was quite emotional, tbh.
Anyway, "Lionheart" is a MASSIVE ballad that has the lyric "you're the brightest moon; I am safe" in it, which we thought was quite poetic. The chorus also had this chord progression that changed from minor to major, which gave the whole thing a really nice, uplifting vibe.
"Waitin' For Ya"
This was the sassiest song we heard and probably the sassiest song that Demi has ever recorded. Before it played, she quickly said, "I don't want you to listen to it and be like, 'God, you're a bitch'." However, she quickly went on to explain that like her faves Rihanna and Nicki Minaj, she wasn't afraid to be a "bad bitch" and speak her mind.
Anyway, the song itself started off with sultry synths and R&B clicks, while Demi cooed her melody in her newly adopted breathy vocal. For us, the best bit of the song was when she sang, "f*ck my bad habits you act like you don't have none". Yes Demi, serve that sass. The song also features Demi's friend and rapper Sirah, who has the line "Bitch, I thought you heard I was coming for your title", which we loved.
As Demi said to us, there aren't a lot of female singers singing about being the baddest bitches in town.
"Stonecold"
The last song Demi played us, "Stonecold" was the most traditional 'Demi Lovato' song of the bunch. Opening with a solitary piano, the verses displayed a honest vulnerability to Demi's voice before swelling into the chorus. It kinda reminded us of Target only bonus track from Demi "I Hate You; Don't Leave Me" in the best possible way.
The song is all about coming to terms with your ex's new relationship, which surely anyone can relate to. There's also a heartbreakingly sad lyric in the song that goes "If happy is her, then I'm happy for you". *SOBS UNCONTROLLABLY*
Towards the end of the song, Demi serves up some vocal runs that were so incredible that we let out a quiet "yass", only to look and see that she had heard us and that she was laughing at us (she later called us cute, so we're ok with it now). In our notes we've quite literally written "slay".

Overall, we were really impressed with what we heard. As it was only five songs, there's loads more still to come and we're still hoping for a banger to follow "Cool For The Summer".
However, we did get the sense that Demi was finally in a place where she really was able to do whatever she wanted to do, and that's the dream.
Confident is released on October 16.
Are you excited to hear the album? Let us know on Twitter and Facebook please and thank you!