Does Hip-Hop Really Hate Black Women?
25 August 2015, 16:19 | Updated: 8 May 2017, 17:09
Azealia Banks has called out the Hip Hop industry for not supporting black female artists.
Azealia Banks doesn't do herself any favours.
Now known more for feuding on Twitter than for her debut album (an album which spent years in major label crossfire hell and should have elevated her stalled career), Azealia Banks' rising star has come to an abrupt halt. While there is clearly some degree of self-sabotage when it comes to the Harlem based rapper's apparent career stagnation, she may be right in questioning whether something larger is at play.
Seemingly unprovoked, Banks went on one of her infamous twitter sessions, this time setting her crosshairs on the hip hop community at large.
No really the black media does not give black women the same lee-way and benefit of doubt that black men are given.

— AZEALIA BANKS (@AZEALIABANKS) August 24, 2015
Black men are allowed to fuck up, rape people, murder people, have sex with underage people... and hip-hop will still support their shit.

— AZEALIA BANKS (@AZEALIABANKS) August 24, 2015
I have a few qualms about life and society and all of a sudden i'm the worst human being in hip-hop.... FUCK ALL THE WAY OUT OF HERE.

— AZEALIA BANKS (@AZEALIABANKS) August 24, 2015
I went and poured my heart out on @hot97... said shit EVERYONE was afraid to say... and they still don't play my music.

— AZEALIA BANKS (@AZEALIABANKS) August 24, 2015
BET doesn't play my videos but they'll play any dumb shit by any white person with a few black people in the video.

— AZEALIA BANKS (@AZEALIABANKS) August 24, 2015
Urban magazines don't invite me anywhere..... not even to take a picture of my foot.

— AZEALIA BANKS (@AZEALIABANKS) August 24, 2015
Azealia Banks straddles the line between indie rap wunderkind and potential mainstream star. Her debut track, "212", received both mainstream and underground praise, essentially guaranteeing that the path to success was paved for the young artist.
But here we are in 2015. Her music barely gets radio play, she is rarely on the cover of magazines, and she had very limited visibility surrounding her debut album. The industry has yet to forgive Banks for her outspoken nature, her apparent confidence, and refusal to become media trained in any way, shape, or form.
And yet, when we look at people like Dr Dre, Tyga, and Eminem, there is no denying the fact that hip hop loves them (well, at least Dre and Eminem). Hip Hop doesn't mind the domestic abuse allegations or constant stream of misogynistic lyrics that these men have made into their personal brands. Hip Hop also doesn't mind the complete lack of depth to these men.

Even an artist like Nicki Minaj is subject to this same principal. Despite working her way up from mixtapes to huge sold out tours, people still shame her for her sexually liberal persona. Despite the fact that I have heard her say the words "stay in school" more than any other mainstream artist, the comments under any Nicki Minaj video are toxic--to say the least.
Nicki speaks on feminist issues more than her pop contemporaries (many urban artists do this because context and feminism go hand in hand) and she has essentially revolutionised the way that pop and rap acts work with one another via the highly coveted Nicki featurette. And yet, she is rarely given the same respect as her male counterparts. People talk about Nicki in a way that they would never talk about male rappers - in deeply misogynistic undertones and rarely outside the context of sexuality.
Damn Nicki Minaj Is A Hoe Man, Going Out With Drake And Meek Mill... That Pussy Must Be Hungry Lol!

— Johnny Raves Drizzy (@johnny_jayy14) August 16, 2015
The complexity of Hip Hop is not lost on the base. Perhaps we should ask ourselves why the radio, print, and online media allowed a certain singer to have a number one Hip Hop album 5 years after brutalising one of the same genre's biggest artists. We truly have to ask ourselves why it feels more natural to forgive and praise men who have "made a turn around" than it does to listen to women who feel undervalued and boxed in.


Hip hop has a very problematic relationship with black women. Why people are afraid to discuss this is beyond me.

— Race Jones (@Shugnice) August 18, 2015
In Hip Hop a Black woman with an opinion is more problematic than a Black man that rapes underage girls and beats women. @AZEALIABANKS

— Black Intifada (@Akhenaten15) August 24, 2015

When Rihanna's "Bitch Better Have My Money" got its now infamous, gore filled video, the very boring people of the internet were quick to list all the various reasons why it was the worst thing that had ever happened. Somehow "Bad Blood", which was essentially a video catalogue of beautiful women, received a VMA nod and the red carpet roll out, while Rihanna's quite artistic and engaging opus was deemed "misogynistic" by The Guardian.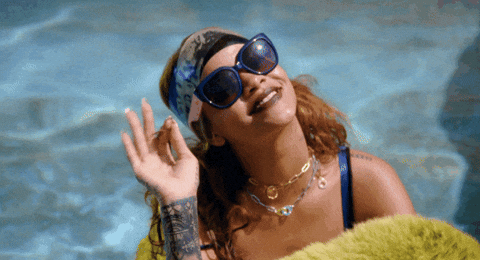 Nevermind that Quentin Terantino has been making the exact same type of content for the last 20 years to critical acclaim, perhaps it is time to acknowledge that (even in the name of art) it is next to impossible to express yourself in Hip-Hop whilst being a black woman.
We may have mixed feelings about Azealia Banks (and most people will). But when it comes to who is speaking up for young black artists and who is challenging these horrifying norms inside and outside of the industry Azealia Banks is the loudest and most unabashed voice. We need people who will highlight the inequity in how we view male and female artists in Hip Hop.
If there is any hope for parity in Hip Hop, people like Azealia Banks are going to have to say it louder.