10 Signs Your Este Haim Obsession Is Definitely Real
16 March 2015, 17:01 | Updated: 8 May 2017, 17:09
Happy birthday, Este!
Este Haim just celebrated her birthday this past weekend. As the official Haim fan club, we couldn't think of a better way to show our appreciation than to share a few reasons why we love Este.
1) Este studied
Ethnomusicology at UCLA and used to sing in a Bulgarian choir
2) She's always wearing lipstick that makes us think she could kill a man at any second.


3)Her twitter handle is literally @jizziemcguire.
you guys, you got me over here feeling SO LOVED with all these birthday wishes. I love all of you to the moon and back xx

— ESTE FUCKING HAIM (@jizziemcguire) March 16, 2015
4) She is in a band with ScarJo which is just such a good idea.
5) Este once went to see M.I.A. with Ke$ha pre-Tik Tok
6) Bass face!!!



7) She never shies away from a chance to bust a move.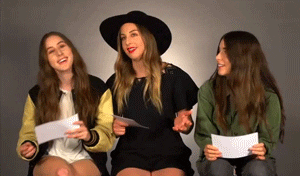 8) Este always looks out for her fam.

9) Taylor Swift is in Este's wolfpack--which is very important.
10) I just…oh.