Little Mix The Search's New Priority take on the Honest Answers Only interview
6 November 2020, 20:10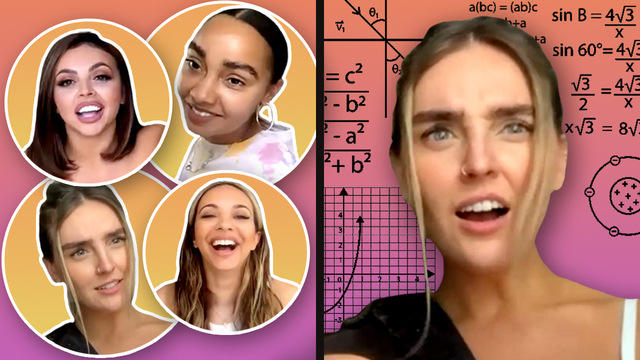 Little Mix vs 'The Most Impossible Little Mix Lyric Quiz' | PopBuzz Meets
Think you know Adam, Kaci, Lee, Talis and Zeekay? Get to know the boy band even better here.
New Priority are quickly becoming the hottest new boy band in music. Formed by pop superstars Little Mix on Little Mix The Search, Adam (19), Kaci (17), Lee (20), Talis (21) and Zeekay (16) are putting a fresh spin on what it means to be a boy band in 2020. Fans all around the world have fallen in love with their friendship, personalities and talent.
READ MORE: Little Mix The Search's Jasper Blue take on the Honest Answers Only interview
Unfortunately, New Priority were eliminated from The Search following an epic semi-final but they already look set to go the distance as a group. With that in mind, we caught up with Adam, Kaci, Lee, Talis and Zeekay and we got them to take on our Honest Answers Only quiz to get to know them better.
Find out how the boys answered our 20 quickfire questions below.
1) What was the first concert you went to?
Kaci: First concert I went to was Justin Bieber. There were trampolines on the stage.
Zeekay: I've never been to a concert in my life.
Talis: I think mine was Westlife.
Adam: I went to Ed Sheeran. It was just him on stage.
Lee: That must have been incredible.
Zeekay: I've been to festivals actually. I went to Capital XTRA Homegrown Live.
2) Who was the first celebrity you had a crush on?
Adam: Selena Gomez.
Lee: Cheryl Cole.
Zeekay: Leigh-Anne.
Kaci: Mine was Zendaya.
Adam: Mrs. Ariana. Oh wait, she's Ms., isn't she?
3) What album can't you stop listening to right now?
Adam: Jon Bellion. I love him.
Zeekay: I've been listening to 24K Magic for the last four years if I'm honest.
Lee: I don't really listen to albums but loving 'Holy' by Justin Bieber right now.
Kaci: I've been listening to Khalid's American Teen ever since it came out.
4) What was the last TV show you binge-watched?
Zeekay: Community on Netflix.
Kaci: I watched Fresh Prince of Bel-Air from start to finish during lockdown.
Talis: I've just started watching Friends on Netflix 'cause I've never seen it.
Adam: (to Lee) What were we just watching?
Lee: The Witcher! The Witcher! The Witcher!
Adam: Yes. That's banging.
5) If you could only have one app on your phone, what would it be?
Talis: Instagram.
Lee: Nah, I like Snapchat.
Adam: It would be Smashing Four, the game, or Clash of Clans.
Kaci: Instagram.
6) What was the last thing you googled?
Zeekay: Let's find out.
Talis: Horny lyrics!
Zeekay: US president 2020.
Adam: Are we about to go into lockdown?
7) What's your go-to karaoke song?
Lee: High School Musical!
Adam: For real?
Kaci: 'Ordinary People' by John Legend.
Zeekay: Mine's New Edition's 'Can You Stand the Rain'. Or Stevie Wonder's 'Lately'.
8) Who in the group would be the most likely to survive a zombie apocalypse?
Lee: Me.
Kaci: Lee or Adam. I would be first to die. I'd do something dumb.
Lee: Actually, I don't know because I would probably run out of food.
Zeekay: Adam would probably eat anything.
Talis: Yeah, Adam then.
9) Who is the last person you stalked on social media?
Zeekay: I stalk a lot of the fan pages. Loads of fan pages on Instagram.
Adam: Yes. We all do that a lot.
10) What's the worst gift someone has ever bought you?
Talis: Socks!
Kaci: Socks. Every year.
Lee: Nah, you always need socks.
Adam: Lynx deodorant set.
Talis: I love them!
Zeekay: One time my uncle genuinely gave me 20 pence. At my birthday party, he handed me 20 pence.
Kaci: Yeah it's things like socks and shampoo.
Zeekay: I don't mind socks actually.
Lee: As you get older, you will learn to appreciate a good sock.
Adam: I like socks man.
The moves ✅ The vocals ✅ The vibe ✅ New Priority ✅ @Little Mix The Search - BBC
11) What's your biggest fear?
Talis: Snakes.
Adam: Talis!
[Everyone laughs]
Zeekay: Adam when he's happy.
[More laughter]
Lee: Mine's going back to work.
Kaci: My biggest fear is the deep ocean. Waking up and white sharks.
Talis: Yeah, it's quite scary the ocean. Only 5% of the ocean has been discovered.
Zeekay: How do people know that? How do you know there's 95% left?
Talis: I don't know it's just a fact.
12) Who do you stan more than anyone else?
Adam: My mum and dad.
Talis: Ah, you're sappy.
Adam: I love Justin Bieber too.
Zeekay: Mine might be Childish Gambino.
Talis: I'd probably say Justin Bieber.
Lee: Bruno Mars.
Zeekay: Oh yeah, Bruno Mars!
Kaci: I stan the older ones like 2Pac.
13) What's something popular that annoys you?
Kaci: [sings] Baby shark doo-doo-doo-doo-doo-doo.
Lee: Is that even popular anymore?
Talis: I think so. It's all over YouTube still.
14) If you were all in a horror movie, who would die first?
Kaci: Me.
Talis: Yeah. Kaci.
Zeekay: He would run away though.
Lee: Maybe Talis.
Talis: No. I know all the tricks of a horror movie.
Kaci: I wouldn't even make it past the first five minutes. I'd die straight away.
15) Who is the best singer in the band?
Zeekay: Okay. On three... one, two, three... me!
[Everyone laughs]
Zeekay: I thought we were all gonna say ourselves. In a way, I think we should all believe we're the best singers.
Kaci: I genuinely think we're all the best singer.
Talis: We all have different voices.
Kaci: There's no way any of us could sing how Talis sings.
Talis: That's why it works.
16) What's your biggest turn-off?
Zeekay: Smoking.
Kaci: I hate rude people.
Lee: Manners, yeah. Manners are massive.
Adam: Manners maketh man.
Talis: Bad breath.
17) What's the best Shrek movie?
Zeekay: Two.
Talis: Two yeah. Happily Ever After.
Zeekay: No. That's not it.
Talis: It is. That's where he turns into a real person.
Zeekay: That's not Happily Ever After. You're thinking of the fourth.
Talis: Oh wait. I'm thinking of Far Far Away.
Zeekay: Yeah and it ends with them singing 'Livin' La Vida Loca'. [starts singing 'Livin' La Vida Loca']
18) Are ghosts real?
Everyone: Yes.
Lee: 100%.
Kaci: I haven't had any experience but I really believe in them.
Talis: I just really like horror movies.
Zeekay: Kaci sleep talks with a ghost.
Kaci: Are you joking? I sleep talk. You sleep talk the most.
[Everyone laughs]
19) What is the meaning of life?
Kaci: Get rich, find love and be happy.
Talis: To have health and happiness.
Adam: Just being content.
Zeekay: I say getting to the highest possible point of freedom without affecting other people negatively.
Lee: That was a very good answer.
20) Who is your favourite member of Little Mix?
Talis: I couldn't pick.
Lee: They're all so different but they're all so nice at the same time.
Kaci: Big fan of Little Mix.
Lee: They're all really funny as well and they're just genuine people.
Zeekay: Leigh-Anne.
[Everyone laughs]
Zeekay: They're all really supportive. Especially when we met them, they were so humble. They don't put themselves on a pedestal. When you first meet them, you feel relaxed and at ease.
BONUS QUESTION
21) Who doe you guys want to win The Search?
Kaci: I want Nostalia to win The Search.
Lee: They are vocally amazing but they're all amazing in their own element.
Talis: I think that's the thing with the competition. Every act on it was completely different.
Zeekay: In a way, everyone does win 'cause you're getting to showcase your talent.
Kaci: I think every group that was made deserved to win the show.
Adam: Everyone's talented.
Zeekay: I'm a big fan of YChange.
Lee: I like to watch Melladaze and Since September 'cause their stage presence is there. Vocally. I'd love to listen to a Nostalia album.
Talis: Basically we can't pick.
Follow New Priority on Instagram to find out what they're up to next.