Little Mix The Search's Since September take on the Honest Answers Only interview
10 November 2020, 17:35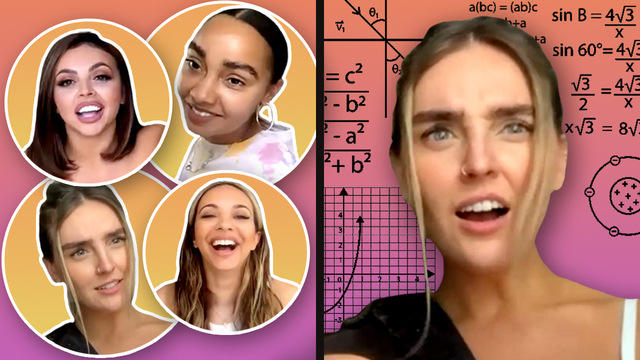 Little Mix vs 'The Most Impossible Little Mix Lyric Quiz' | PopBuzz Meets
Think you know Harry, Jacob, Matthew and Patrick? Get to know the vocal and instrument band even better here.
It's official. Since September are the winners of Little Mix The Search. Formed by living legends Jade Thirlwall, Jesy Nelson, Perrie Edwards and Leigh-Anne Pinnock, Harry (22), Jacob (20), Matthew (21) and Patrick (20) all won the public vote in an epic final against YChange, Nostalia and Melladaze. They will now support Little Mix on their 2021 Confetti Tour.
Since September are already being hailed as the UK's next McFly but how well do you know the band? We spoke to Harry, Jacob, Matthew and Patrick fresh off of their win, as we got them to take on our Honest Answers Only quiz.
Find out how the boys answered our 20 quickfire questions below.
READ MORE: Little Mix The Search's New Priority take on the Honest Answers Only interview
1) What was the first concert you went to?
Patrick: Mine was McFly in Burnley. It's just so surreal that we got to meet them 10 years later on the show.
Harry: Oasis, which is fitting because we won with an Oasis song. 2009.
Matthew: Justin Bieber.
Jacob: JLS.
2) Who was the first celebrity you had a crush on?
Matthew: I think I used to love Cheryl Cole back in the day.
Harry: I was a Hannah Montana kind of guy but Hannah Montana not Miley Cyrus. Very specific.
Patrick: I don't think I've ever really had a celebrity crush. Not actively.
Harry: Me.
Jacob: I suppose it probably would be Perrie.
Matthew: Wow.
Harry: Oooh! (Everyone laughs)
3) What album can't you stop listening to right now?
Jacob: Sam Smith's new album. Love Goes.
Patrick: Mine's eternally The Stone Roses' first album. Constant. It never ends.
Matthew: I listen to Lewis Capaldi 24/7 or this guy called Clinton Kane I found recently on Spotify.
Harry: I'm still not over Harry Styles' latest album but, of course, I'm always listening to Confetti.
Jacob: 'Happiness' on Confetti is so good.
4) What was the last TV show you binge-watched?
Patrick: Vikings on Amazon Prime. Unbelievable.
Matthew: Stranger Things I think. I only just caught up on it.
Jacob: Mine was Broadchurch when we were in isolation.
Harry: I think it was Prison Break.
5) If you could only have one app on your phone, what would it be?
Matthew: Instagram.
Harry: It's got to be Instagram, hasn't it?
Patrick: Yeah.
Jacob: Mine would be Twitter. Always got to be different.
6) What was the last thing you googled?
Matthew: Little Mix The Search winners.
Jacob: It probably was that to be fair.
Matthew: I was trying to see what the story was.
7) What's your go-to karaoke song?
Jacob: 'Proud Mary'. Tina Turner.
Adam: 'Champagne Supernova'. Oasis.
Patrick: Mine's 'Superstition' by Stevie Wonder.
Harry: 'Don't Let the Sun Go Down On Me'. Elton John and George Michael.
Jacob: What a classic.
Harry: I need a partner though.
8) Who in the group would be the most likely to survive a zombie apocalypse?
Patrick: Not me.
Matthew: I'd say Jacob.
Harry: Matthew would sleep through it.
Jacob: I think me or Harry.
9) Who is the last person you stalked on social media?
Patrick: I actually think it was Jacob to be fair.
Jacob: Why?!
Patrick: I like to laugh at his old photos.
Harry: Probably Dougie from McFly.
Matthew: I was gonna say the same thing. After meeting McFly, I was stalking Dougie 'cause he's the coolest guy I've ever met in my life.
Harry: It was mental meeting them. We had just a general chit chat which was lovely.
Jacob: Mine was probably Sam Smith. I'm always on their page.
10) What's the worst gift someone has ever bought you?
Matthew: (visibly enraged) I'm not joking and I don't mean to be disrespectful but for some reason someone, when I was at school, got me Sam Smith's album. It wasn't a bad gift but it was like 'Why did you get me this?'. It was like 'You had all year to think about this Nadia and you got me Sam Smith's album'.
Jacob: (confused) But you listen to that kind of music!
Matthew: Not back then. I was 15. It's the one when he was sitting like this. (poses like Sam on the In the Lonely Hour cover)
Jacob: That's rude. Don't put that one in.
Since September put their spin on two iconic songs... beyond paid off 👏 @Little Mix The Search - BBC
11) What's your biggest fear?
Jacob: Spiders.
Harry: Waking up. I feel like I could still wake up and it would be the morning of the final.
Matthew: Flying.
Patrick: You're scared of flying?
Matthew: Oh my god. I hate flying.
Jacob: What, like flying on aeroplanes?
Matthew: Well, I don't fly myself (laughs)
Harry: What about touring?
Matthew: Well, we'll have to sort something out. We'll have to get a boat.
12) Who do you stan more than anyone else?
Harry: I would probably have to go with McFly again to be honest.
Matthew: Lewis Capaldi.
Patrick: This really obscure artist called Yellow Days. I just love him.
Jacob: Melladaze?
Patrick: No, Yellow Days. He's just the coolest guy.
Jacob: And mine's obviously Sam Smith.
13) What's something popular that annoys you?
Patrick: TikTok.
Jacob: (sarcastically) Right? Say that now to all the fans. Brilliant.
Matthew: Liverpool Football Club.
Jacob: Are you really gonna say that about Alex Oxlade-Chamberlaine? [Liverpool mid-fielder, Perrie's boyfriend]
Matthew: Nah, I love Alex. I'm a United fan though.
Jacob: I don't know. I don't really get annoyed.
Matthew: Alright, Cinderella.
Harry: Apple updates.
Jacob: The fact that all these popular apps always change their logo annoys me actually.
Matthew: Yes!
14) If you were all in a horror movie, who would die first?
Harry: (pointing at Patrick) You!
Patrick: It has to be me.
Matthew: Yeah, you.
Jacob: It would be Patrick.
Harry: In the back of a van. Immediately.
15) Who is the best singer in the band?
Everyone points at Jacob.
Matthew: Jacob!
Jacob: What an awkward question.
Matthew: This is the vocalist of the whole show.
Jacob: Stop it. That's embarrassing.
16) What's your biggest turn-off?
Matthew: I don't know actually.
Patrick: (puts his face directly in front of Matthew's) Someone who speaks really close to you.
Jacob: Someone who eats really loudly.
Harry: (looking at Matthew) Yeah!
Matthew: (laughing) I don't eat loudly!
Jacob: Yes you do!... and with their mouth open.
Matthew: I don't eat with my mouth open.
Jacob: Sometimes you do.
Matthew: My biggest turn off is people who comment on how I eat.
17) What's the best Shrek movie?
Jacob: Shrek 2.
Matthew: It has to be.
Patrick: What do you mean, Shrek 2?
Jacob: (imitating the Fairy Godmother) C-minor, put it in c-minor.
Harry: Is that the one with... (sings in impeccable falsetto) 'I need a hero!'
Jacob: Yes!
Harry: Yeah, that one.
Matthew: The one where he drinks the potion and becomes human, that's my favourite.
Jacob: That's Shrek 2!
18) Are ghosts real?
Matthew: Ah, let's chat about this! They absolutely are.
Jacob: No, I don't think ghosts are real.
Matthew: They are!
Jacob: No.
Matthew: Oh, I've had experiences.
Patrick: Have you really?
Matthew: I told you! I was doing maths with an after school tutor and, out the left side of my eye, I see this thing walk by the window and then the tutor sits down and says 'So do you believe in ghosts?' And I said, 'I don't but if I ever saw one, I just saw one two minutes ago'. And he then made it obvious that I did see a ghost. I think he summons them. I don't know what he did but I've seen a ghost. I'm not happy about it and I haven't slept since. Four years ago.
Harry: I don't believe in ghosts. Seeing is believing with me.
19) What is the meaning of life?
Harry: Love each other, have fun and make great music!
Jacob: Yeah! I was gonna say love.
Matthew: Wow Harry!
Patrick: That was very profound!
Matthew: That was the guyliner speaking!
20) Who is your favourite member of Little Mix?
Patrick: (sings) Jade!
Jacob: Perrie!
Matthew: I love them all... but Perrie emphasised her love for us so I love Perrie.
Harry: It would probably be Leigh-Anne.
BONUS QUESTION
21) Who was your favourite band other than you on The Search?
Everyone: (unanimously) YChange!
Harry: Tell 'em!
Matthew: We love them all but YChange for us.
Jacob: Yeah, they all were amazing but YChange.
Follow Since September on Instagram and Twitter to find out what they're up to next.