Little Mix The Search's Jasper Blue take on the Honest Answers Only interview
30 October 2020, 14:40 | Updated: 2 November 2020, 17:33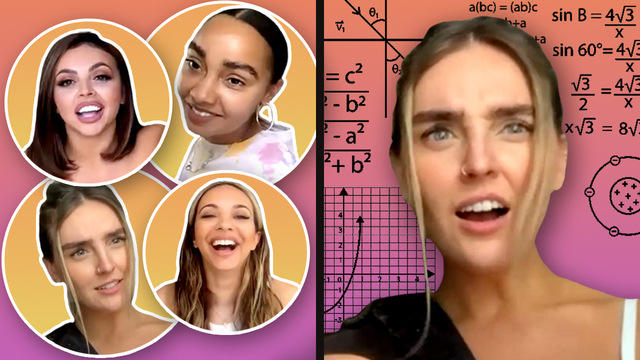 Little Mix vs 'The Most Impossible Little Mix Lyric Quiz' | PopBuzz Meets
Think you know Jordan, Liam, Melina and Rosie? Get to know the mixed group even better here.
Jasper Blue are here to bring the mixed group back. Made up of Jordan (22), Liam (24), Melina (24) and Rosie (23), the band stole viewers' hearts on Little Mix The Search this autumn. As soon as Little Mix put Jasper Blue together, viewers couldn't get enough of their positive energy, brilliant voices and natural chemistry.
READ MORE: 12 times Leigh-Anne Pinnock from Little Mix was iconic
Sadly, Jasper Blue left the competition last week (Oct 24) but their journey as a foursome is only just beginning. With that in mind, we got Jordan, Liam and Melina (unfortunately, Rosie's wifi did not work) to take on our Honest Answers Only quiz to get to know them better.
Find out how the band answered our 20 quickfire questions below.
1) What was the first concert you went to?
Liam: Mine was a festival. I saw Ed Sheeran, DJ Fresh, a whole bunch of people.
Melina: McFly. I'm pretty sure The Pussycat Dolls supported them. It was mad.
Jordan: Jessie J, I think.
2) Who was the first celebrity you had a crush on?
Liam: Kim Possible from Disney Channel. Facts.
Melina: I think mine was like Zack and Cody from The Suite Life of Zack and Cody.
Jordan: Sharpay from High School Musical.
Liam: Ah you know what, Vanessa Hudgens as well!
3) What album can't you stop listening to right now?
Melina: I mean Little Mix's new song. I know it's not an album but it's a bop.
Liam: 'Sweet Melody' is stuck in my head. I keep walking around my house singing 'doo-doo doo-doo doo-doo'.
Jordan: I'm listening to LM5! Their last album.
Melina: We're big Little Mix fans over here.
4) What was the last TV show you binge-watched?
Liam: Schitt's Creek. I'm loving it. Daviddddddd. I keep rewatching the clip of her in the car dealership.
Melina: Friends. I always rewatch Friends so when it gets to the end I just start again. It doesn't get boring ever.
Jordan: I've never seen Friends before.
Melina: What?!!
Jordan: Never.
Melina: Oh my God. Jordan we need to have a Friends marathon soon.
Jordan: Yes! I'm currently watching 60 Days In.
5) If you could only have one app on your phone, what would it be?
Melina: I'm gonna say Instagram. I'm gonna be that basic but I can't live without it.
Liam: Spotify for music. I need my music. It's my everything.
Jordan: I think Uber Eats.
Liam: Legend! That's a close second for me.
6) What was the last thing you googled?
Liam: It was trying to figure out an actor in a movie. It wasn't that exciting to be honest.
Melina: Halloween costumes!
Jordan: Getting a new X-Box controller.
7) What's your go-to karaoke song?
Melina: Mine is 'You & I' by Lady Gaga.
Liam: 'Señorita'. Justin Timberlake. 'Ladies and gentleman...'
Jordan: I think mine's 'Don't Stop Believin'' *dances*
Liam: We need to have a karaoke night.
Jordan: I can't wait.
8) Who in the group would be the most likely to survive a zombie apocalypse?
Melina: Rosie. 1000%.
Liam: Rosie.
Jordan: Oh yeah, Rosie.
Melina: She'd do stunts and stuff like that.
Liam: She'd be kicking their butts.
9) Who is the last person you stalked on social media?
Liam: Melina's dog. (You can follow little legend Louis via @louisthelionn on Instagram). Also NAO!
Melina: Leonardo DiCaprio. Just to look at his beautiful face really. He's a phenomenal actor but also very dishy.
Jordan: Little Mix's page. Any update on the search.
10) What's the worst gift someone has ever bought you?
Jordan: Pair of socks!
Liam: That's a good gift though!
Melina: My mum used to always put tangerines in our Christmas stockings and I'd be like... why?
Liam: My friend's mum wrapped up an Argos catalogue for him once and that was his gift. I'm blessed though. Grateful for socks.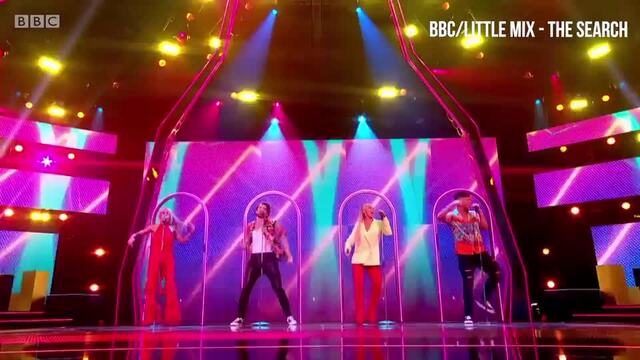 Jasper Blue perform Just Got Paid on Little Mix The Search
11) What's your biggest fear?
Melina: I have a really weird thing about injections. They freak me out. I cry every time I have to get any type of jab.
Liam: I have a weird thing about being patted. It makes my hairs stand up. It's that feeling of being patronised.
Melina: I have another weird thing actually. I get freaked out by other people's sandwiches. You know when people wrap up a sandwich in cling film and it gets condensation all over it. Eughhh.
Jordan: I've got a phobia of daddy long legs and spiders.
12) Who do you stan more than anyone else?
Liam: Aside from Little Mix, Gregory Porter. He's a jazz artist I absolutely love. Bruno Mars.
Jordan: Beyoncé and Rihanna.
Melina: I have two and they're both so completely different. I stan Lady Gaga because she's Lady Gaga but I also stan Paris Hilton because I think she's fabulous.
13) What's your favourite swear word?
Liam: Good old fashioned F-word isn't it?
Melina: I think mine is (*mouths*) 'You bitch'!
Jordan: S-H-I-T. I don't want to say it. It's too early in the morning.
14) If you were all in a horror movie, who would die first?
Liam: Jordan.
Melina: Yes.
Jordan: It probably would be me. I wouldn't know what I'm doing.
Liam: He'd be on UberEats asking for food.
15) Who is the best singer in the band?
Liam: No. We're not doing that.
Jordan: We could never say that.
Melina: Do you know what? We're all just so different. Honestly. Everyone's got their own different flavour. We all bring that special spice.
Jordan: Yeah. We're all just so unique and amazing.
Everyone laughs.
16) What's your biggest turn-off?
Liam: People that are rude. No manners.
Jordan: People with a bad attitude and smelly breath.
Melina: Arrogance and cheesy feet.
17) What's the best Shrek movie?
Liam: OG. Number 1.
Jordan: Yeah. Number 1.
Melina: No! Number 2.
Liam: WHAT?!
Melina: The Fairy Godmother, Puss & Boots! You can't argue with that.
18) Are ghosts real?
Jordan: Yes.
Melina: 100%.
Liam: Call them what you like. There's something out there.
Jordan: One night I was in bed and it felt like something was flying over me. Ears were ringing. Definitely a ghost.
Melina: I was in the shower one time and all my lights turned off so I ran out. It was terrifying.. but it was just a power cut.
Everyone laughs.
19) What is the meaning of life?
Melina: Oh gosh. This is intense.
Liam: To love and be loved.
Jordan: Live it to the full. Just live it.
Melina: Just go to bed at night knowing that you're a good person. We're all going to the same place at the end of the day.
Jordan: Love that Melina.
Liam: Amen. That's a really good philosophy.
20) Who is your favourite member of Little Mix?
Melina: *gasps*
Jordan: Oooooooooh!
Liam: No. Your answer is no.
Melina: I wouldn't be able to pick. My obsession rotates weekly. Jesy's out in a new wig and I'm like 'Oh my god. It's you.' Then Perrie will do something with Hatchi and I'm like 'Oh my god. It's you.' Then Leigh-Anne will do a killer note. It's constantly rotating.
Jordan: The girls are so unique.
Liam: I'm with Melina on that one. I go through different phases. When I watched the 'Sweet Melody' music video, I was obsessed with Jade's performance and her visual. The eye-roll! I think that's why they're so great and so successful. It's because they all bring their own thing.
Melina: Being in a band, you're all different characters.
Liam: We stan them all.
BONUS QUESTION
21) Who are you guys rooting for to win The Search?
Liam: I love them all but I do love YChange. I like to rap as well so it's YChange for me.
Jordan: I think I'm rooting for Nostalia. Vocally they're the strongest.
Melina. They're a good one. We love them all but I'm digging YChange. I think it's the mixed thing 'cause we can kind of relate to it.
Liam: Also everyone's so nice but they are just the most amazing people as well and their support to us likewise has been really amazing.
Melina: I love instrument as well.
Jordan: We just love them all.
Follow Jasper Blue on Instagram and Twitter to find out what they're up to next.