The PopBuzz Podcast Ep 39: Ansel Elgort, Lily James, Baby Driver
30 June 2017, 15:49
All those in favourite of having Ansel Elgort be your personal driver, say "Aye!"
It's official. Baby Driver is one of, if not THE, must-see movie of the summer. You know what, it might be the must-see movie of the year, the century, the millennium - all of them to be honest. It's THAT great. Seriously. And this week, we were joined by two of its most badass cast members.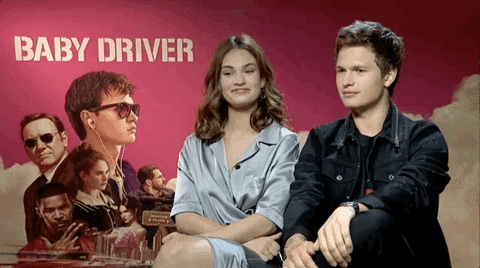 PopBuzz
Yes, the guests on the PopBuzz Podcast this week are the flawless Ansel Elgort and Lily James who play Baby and Debora in the movie and we sat down and grilled them about their fantasy heist team and sent them speeding head first into the PopBuzz Confession Booth. In fact, they took so long trying to decide who their celebrity getaway driver would be that they probably would have ended up getting caught by the police anyway. In the end, Ansel pulled it out of the bag with the most incredible choice celebrity to get behind the wheel. You'll scream when you hear who he picked!
All that and more on the PopBuzz Podcast...
HOW TO SUBSCRIBE:
1) Search for 'PopBuzz' on iTunes, and subscribe to the podcast for brand new episodes every Friday.
2) You can also listen to us on Soundcloud. All you've gotta do is search 'PopBuzz' and we'll appear before your very eyes.
3) Don't forget to leave us a review. If you're nice, we'll give you sweets.
ELSEWHERE IN THE EPISODE...
Netflix received another barrage of backlash this week after they released the trailer for their new movie 'To The Bone'. The film focuses on a young girl who suffers from anorexia and ultimately ends up seeking treatment in a rehab facility. People immediately accused them of 'glamorising' eating disorders but were they right to do so? Can you really judge a movie on a 3 minute trailer?
Has the Snapchat Map ruined your life yet? Snap's new update has been causing a lot of trouble with its users this week. The creepy update now lets you pin point exactly where your friends are in the world, meaning you can stalk their every move via Bitmoji. Have you been kidnapped yet? Or worse... have you discovered your friends hanging out without you?
Snapchat
It's here! The song of the summer debate is upon us. Our very high-tech and accurate voting system has been ticking away for a good few weeks now and the results are in. Which bop has been crowned Song of the Summer 2017 so far? You'll just have to tune in and find out won't you? Mwahahahaha.

Fueled By Ramen
Got a question you want us to answer or a topic you want to discuss with us on air? Why not drop us an email at info@pop-buzz.com or you find us on Facebook (
PopBuzz
) and Twitter (
@PopBuzz
).