The PopBuzz Podcast Ep 35: All Time Low
2 June 2017, 16:40
All Time Low attempt to play the kazoo. You're welcome.
All Time Low attempting to play the kazoo is about to be one of the funniest things you will ever see/hear. Trust us fam. It's a treat for the eyes and the ears.
Yes, the boys from All Time Low are BACK on the PopBuzz Podcast and my god, did we have a good sesh. We spoke about their brand new album Last Young Renegade, Alex revealed his two favourite songs and to celebrate their FIRST album with new record label Fueled By Ramen, we asked who on the FBR roster would they most like to collab with... and their answer? Well, you'll just have to tune in to find out won't you! (SPOILER: There's no wrong answer.)
Then there was the small matter of Kazoo Roulette. Split into two teams, Jack and Rian battled Alex and Zack for the Kazoo championship. 5 pop songs, two kazoos and a slow descent into chaos. It was amazing. But there was one clear winner...
All that and more on this week's edition of the #PopBuzzPodcast...
HOW TO SUBSCRIBE:
1) Search for 'PopBuzz' on iTunes, and subscribe to the podcast for brand new episodes every Friday.
2) You can also listen to us on Soundcloud. All you've gotta do is search 'PopBuzz' and we'll appear before your very eyes.
3) Don't forget to leave us a review. If you're nice, we'll give you sweets.
ELSEWHERE IN THE EPISODE...
'Covfefe' happened this week and in case you missed it, the situation has now escalated to DEFCON 1. Yes. According to White House Press Sec. Sean Spicer, 'covfefe' is an ACTUAL word that Trump actually meant to use and only a small group of people know exactly what he meant. Cut to us spending a good 5 minutes trying to NAIL what it really means... we think we've cracked it, tbh.
Netflix
#PeriodEmojis are a thing now, did you hear? Yep, the squad over at Plan International have started a campaign for our emoji keyboards to contain an emoji that represents the period. Their aim? To make the subject of periods less taboo across the world, of course! But are you actually going to use it? In what situation could men use it? And most importantly... which one of the five they've designed are you going to vote for!?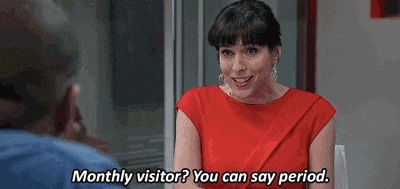 via giphy.com
In the PENULTIMATE edition of 'Snaps or Craps', we discuss how important it is for the LEADER of a major political party to turn up to a LEADERS debate. In case you missed it, PM Theresa May infamously did not show her face at the latest debate and people are fuming. Has her no-show damaged her campaign? Can you imagine what kind of uproar this would cause if it happened in the US or France? Not having it babes, not having it.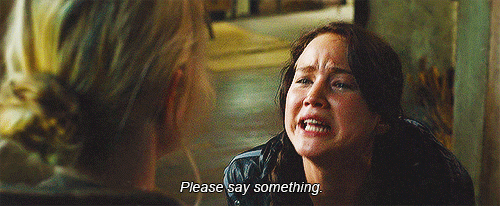 Lionsgate
Got a question you want us to answer or a topic you want to discuss with us on air? Why not drop us an email at info@pop-buzz.com. Or you find us on Facebook (

PopBuzz

) and Twitter (

@PopBuzz

).