The PopBuzz Podcast Ep 32: Hey Violet, Millie Bobby Brown, MTV Movie Awards
12 May 2017, 16:12 | Updated: 12 May 2017, 19:48
LA's finest Hey Violet stop by to talk through working with 5SOS and dish the deets on their EXCELLENT new album.
The weirdest rumour Hey Violet have ever heard about themselves? It may or may not involve the act of shipping. So stop it. All of ya!
Yep, your new favourite band Hey Violet stopped by this week to fill us in on their brand new album (released June 16) and discussed everything from what Ashton from 5SOS was like as a "teacher", cheeky Nando's experiences, life together at school and just in case you were wondering, they even laid down the law of what to lookout for when it comes to fuccbois. Has a band ever had our backs more than Hey Violet have? No. They're really good eggs.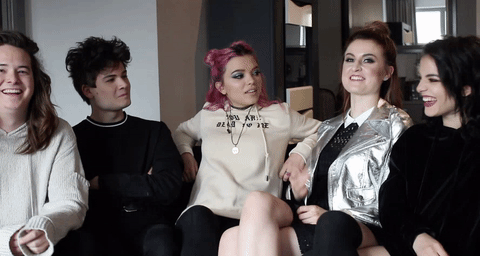 PopBuzz
The squad stuck around to play a HIGH-LARIOUS game of "Welcome To The Comment Section" where they tried to guess their own music videos from the comments YOU have left on them. Did they score 100%? Was YOUR comment read out loud? Well, you're gonna have to tune in and find out aren't ya?!
All that and more on the PopBuzz Podcast...
HOW TO SUBSCRIBE:
1) Search for 'PopBuzz' on iTunes, and subscribe to the podcast for brand new episodes every Friday.
2) You can also listen to us on Soundcloud. All you've gotta do is search 'PopBuzz' and we'll appear before your very eyes.
3) Don't forget to leave us a review. If you're nice, we'll give you sweets.
Elsewhere in the episode…
We go through ALLLLL the highs and lows of the MTV Movie and TV Awards from last Sunday. Did you hear the f*cked up reason why Millie Bobby Brown ended up on someone's Worst Dressed list? Were those mixed acting categories actually worth it? And did Beauty and the Beast ACTUALLY deserve film of the year? #JusticeForGetOut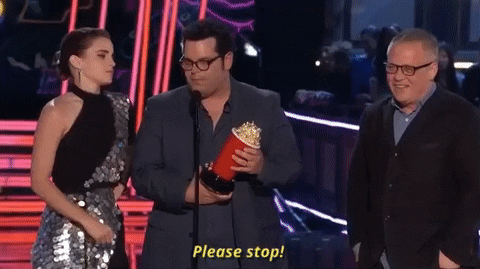 MTV
We pay our respects to Pepe the Frog who sadly passed away this week after his creator Matt Furie decided to… well, stop drawing him to be honest with you. Will he ever be able to be claimed back by the internet from the Alt-Right community? We're guessing no… What about you?
via giphy.com
The third edition of 'Snaps or Craps' is back (don't worry lads, there's only like, 3 more traumatic instalments to go until the election - thank god!) and this week, we wanna know why teenagers are so apathetic towards voting and getting involved in politics. We even played a little game of 'Is This A Politician Or Just A Pop Punk Front Man?' for the LOLz and failed spectacularly.
via giphy.com
Got a question you want us to answer or a topic you want to discuss with us on air? Why not drop us an email at info@pop-buzz.com. Or you find us on Facebook (
PopBuzz
) and Twitter (
@PopBuzz
).