The PopBuzz Podcast Ep 41: Nick Jonas
14 July 2017, 17:26 | Updated: 14 July 2017, 17:35
10 minutes in heaven with Nick Jonas? Don't mind if we do.
JONAS BROTHER KLAXON! Nick Jonas stopped by the studio this week and ooooh, did we have a lovely time with our favourite Jo Bro! (No one tell Joe or Kevin we said that...)
From the British influences on the track to his new creative role on the production side of things, Nick dished ALL the tea about his brand new song 'Remember I Told You' which we have official declared 'a bloody bop'. And of course, we couldn't let Nick leave the studio without talking about THAT episode of Running Wild with Bear Grylls. Still not over it tbh.
Later on, we took a deep dive into the YouTube comment section on Nick's music videos and well... the whole thing got DELICIOUSLY awkward.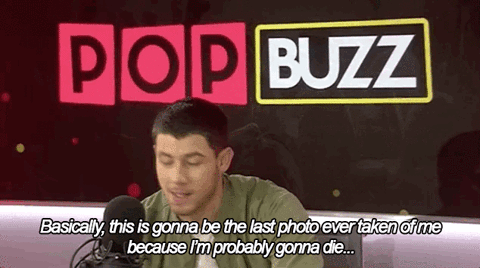 ALL THAT AND MORE ON THE POPBUZZ PODCAST...
HOW TO SUBSCRIBE:
1) Search for 'PopBuzz' on iTunes, and subscribe to the podcast for brand new episodes every Friday.
2) You can also listen to us on Soundcloud. All you've gotta do is search 'PopBuzz' and we'll appear before your very eyes.
3) To watch our EXCLUSIVE guest interview footage, you can click right here.
4) Don't forget to leave us a review. If you're nice, we'll give you sweets.
ELSEWHERE IN THE EPISODE...
We've had to make a formal apology this week to a certain Mr Cole Sprouse after he took one of our quizzes and discovered that he wasn't actually cool. Yep, Cole played the 'Would Cole Sprouse think you're cool?' quiz and then posted the screenshots to his Twitter. We're just waiting with baited breath for the rest of the Riverdale cast to take up and end up with the 'Cool' result. SORRY COLE.
"Haha this should be fun." pic.twitter.com/sOhBIxt9DY

— Cole M. Sprouse (@colesprouse) July 11, 2017
GOOD NEWS! Gerard Way got a new job this week. His comic book series, "The Umbrella Academy" is being turned into a bloody Netflix show! But we couldn't help but wonder... which other musicians would we like to see try their hand at creating a full fledged Netflix drama? Beyonce and the Beygency? Maybe?
via giphy.com
LET'S TALK ABOUT SEX AGAIN! Yep, your new favourite segment is back and this week, we're talking about Super Gonorrhea. No, it's not a new Marvel superhero, it's actually a very strong strain of the common STI and it's becoming untreatable with antibiotics. Now, we're no experts (although we HAVE watched 13 episodes of Grey's Anatomy so...) but that sounds pretty dangerous. Thankfully, Dr Woody is on hand to explain how you can avoid it. via giphy.com
Got a question you want us to answer or a topic you want to discuss with us on air? Why not drop us an email at info@pop-buzz.com or you find us on Facebook (
PopBuzz
) and Twitter (
@PopBuzz
).