The PopBuzz Podcast Ep 42: Game Of Thrones
21 July 2017, 15:44 | Updated: 21 July 2017, 16:13
It's back, we're shook, winter is here and Sansa's wig is a MESS. [CONTAINS SPOILERS]
DID YOU WATCH IT? DID YOU WATCH IT? The best show on TV made its triumphant return on Sunday night and all those months of waiting for Daenerys Targaryen to reach the shores of Westeros are finally behind us.
Yes, in honour of the long-awaited return of Game of Thrones, this week we thought we'd go full Westeros on your asses and bring you a very special edition of the PopBuzz Podcast. We talk about the big burning questions that the episode left unanswered including Euron Greyjoy's "gift" for Cersei, is Sam actually a young Harry Potter in disguise and WHAT THE FUCK WAS GOING ON WITH ED SHEERAN?!
HBO
And because it is ~GAME~ of Thrones, we attempted to spell some Westerosi words in another round of the Popbuzz Spelling Bee. But which one of us - the Lannister or the Stark - ends up on the fictional PopBuzz iron throne? You'll just have to wait and see. Oh, and if you've never read Game of Thrones fan fiction, then you're in either the very best day or very worst day of your life. Shall we begin?
ALL THAT AND MORE ON THE POPBUZZ PODCAST...
HOW TO SUBSCRIBE:
1) Search for 'PopBuzz' on iTunes, and subscribe to the podcast for brand new episodes every Friday.
2) You can also listen to us on Soundcloud. All you've gotta do is search 'PopBuzz' and we'll appear before your very eyes.
3) To watch our EXCLUSIVE guest interview footage, you can click right here.
4) Don't forget to leave us a review. If you're nice, we'll give you sweets.
ELSEWHERE IN THE EPISODE...
Let's talk about THAT Ed Sheeran cameo shall we? It's not completely alien for Thrones to throw a few musical cameos in there (Coldplay did it, Snow Patrol, Of Monsters And Men...) but was Ed's turn as a singing Lannister soldier a bit toooooo obvious? Tune to hear us start a fight about it.
HBO
Talking of stupid cameos, we can't decide if that Harry Potter reference was made on purpose or not. ICYMI, Jim Broadbent made his first appearance as Maester Marwyn. He also plays Professor Slughorn in Harry Potter. In HP, Slughorn is asked by Tom Riddle (baby Voldemort) about the restricted section in the library. And guess what - SAM ASKS THE SAME THING IN THIS EPISODE. Was it done on purpose tho?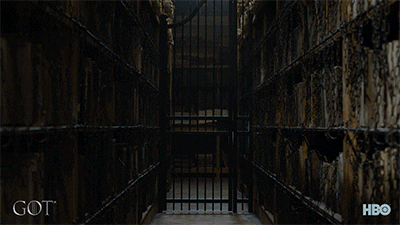 HBO
Everyone's least favourite Greyjoy, Euron returned from his ship building vacay and my god, he has had a GLOOOOOW UPPPPPP!? The once standard looking son of the Iron Islands strolled into Kings Landing to ask for Cersei's hand in marriage looking like like the love child of a member of The 1975 and a poster boy for Hot Topic. The memes were LIT but the question remains: Did he get hotter, or DID HE GET HOTTER?!
Why tf does Euron Greyjoy dress like he owns a microbrewery that specializes in beers named after Judas Priest songs? #GameOfThrones

— Memos (@Sparrowmemos) July 17, 2017
Why did Euron Greyjoy look like he was about to tear down The Wall with the power of rock & roll? #GoTS7

— Joey Swidler (@joey_swidler) July 17, 2017
Euron Greyjoy dressed like every person who works at every Hot Topic

— Beyrion Stannister (@Simply_Nadia) July 17, 2017
Why does Euron Greyjoy look like he's in The 1975 pic.twitter.com/9gn4a2Ptt1

— Adam (@RummHammm) July 17, 2017
why does euron greyjoy look like he has a solo noise project

— meredith graves (@gravesmeredith) July 20, 2017
why does Euron Greyjoy look like he's in My Chemical Romance? #gameofthrones pic.twitter.com/M2WjudXFQO

— Elizabeth (@emrof21) July 17, 2017
Got a question you want us to answer or a topic you want to discuss with us on air? Why not drop us an email at info@pop-buzz.com or you find us on Facebook (
PopBuzz
) and Twitter (
@PopBuzz
).