The PopBuzz Podcast Ep 27: Scott Eastwood, 13 Reasons Why and Halsey
Scott Eastwood dishes on Fast & Furious 8, Suicide Squad and The Rock's "secret" nickname.
Scott Eastwood just dropped the superhero BOMBSHELL of all bombshells on us and all we're gonna say is... Affleck, watch your back.
Hollywood actor and star of the brand Fast & Furious movie, Scott Eastwood stopped by the PopBuzz studio last week and we had a very lovely time. He teased the fate and potential return of his character in Suicide Squad, revealed which iconic superhero he would like to play next and even described what it feels like to be throw against a wall by Dwayne 'The Rock' Johnson. An honour, we're sure you'll agree.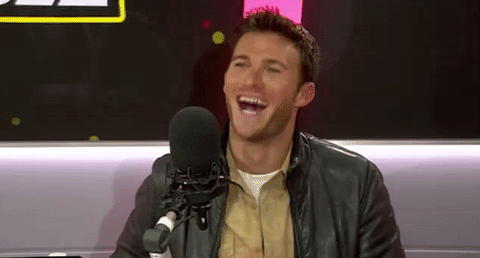 PopBuzz
We also put Scott to the test in a game we like to call 'Fact Or Spurious' - it's basically true or false with a fancy name that we definitely didn't make up on the spot - in which he has to sleuth out the facts and the lies about his Fast And Furious co-stars. Helen Mirren used to work as a WHAT when she was younger?! Christ.
All that and more on this week's edition The PopBuzz Podcast.
HOW TO SUBSCRIBE:
1) Search for 'PopBuzz' on iTunes, and subscribe to the podcast for brand new episodes every Friday.
2) You can also listen to us on Soundcloud. All you've gotta do is search 'PopBuzz' and we'll appear before your very eyes.
3) Or, you can type - you guessed it - 'PopBuzz' into YouTube and listen that way.
4) Don't forget to leave us a review. If you're nice, we'll give you sweets.

Elsewhere in the episode...
We discuss our ~honest~ thoughts on Halsey's grand return to the world of music with her new track and music video for 'Now or Never'.
Astralwerks / via giphy.com
We take a deep dive into the incredible new Netflix drama 13 Reasons Why. What is it about this show that makes it so damn popular? (Don't worry - we're spoiler free!)
Netflix / via giphy.com
And in the most WTF-worthy news story of the week, we get ourselves wrapped up in the viral Rick & Morty/McDonalds/Mulan szechuan sauce saga by suggesting our own dips for McDonalds and Disney to steal.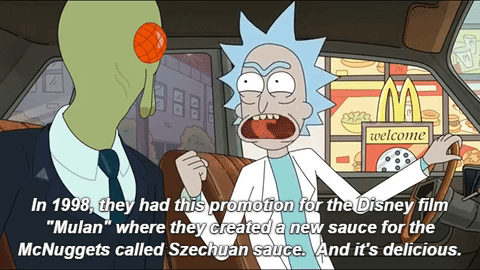 Cartoon Network / via giphy.com
Also this week, the PopBuzz Squad are joined by Benedict from We The Unicorns to play a BRAND NEW GAME called 'Catch The Clickbait' in which James, Woody and Katie battle it out to guess what is REALLY going on in some of the most outrageous video titles on YouTube.
Got a question you want us to answer or a topic you want to discuss with us on air? Why not drop us an email at info@pop-buzz.com. Or you find us on Facebook (
PopBuzz
) and Twitter (
@PopBuzz
).