WATCH: Chris Pratt Had A Dance Off With Baby Groot & It Was LIT
The 'Guardians Of The Galaxy' actor got his groove on to The Jackson 5 right in the middle of our interview.
We caught up with Chris Pratt ahead of the release of the HUGE Marvel movie sequel Guardians Of The Galaxy Volume 2 to talk all things Star Lord, his Parks & Rec days and which food he misses the most now he's gone full muscle man.
But, while we were there, we couldn't resist having a quick dance party with our mutual friend Baby Groot.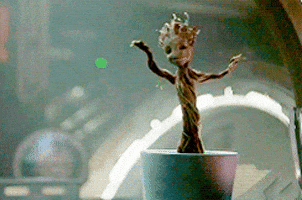 Disney: Giphy
So, after smuggling a novelty toy into the interview room, we got Chris to take everyone's fave dancing tree for a spin. And he did not disappoint.
You can catch our full interview with Chris as well as our chats with fellow castmates Zoe Saldana, Dave Bautista on this week's podcast. Head here to subscribe.
In the meantime, here's a quick preview of what to expect from our hilarious chat with Chris Pratt:
____ ____ ____ ____ ____
Listen to the #PopBuzzPodcast with Chris Pratt and the rest of the Guardians Of The Galaxy Vol 2 cast right here or subscribe for free on iTunes to get new episodes sent straight to your phone every Friday.