Little Mix reveal they planned a Piers Morgan inspired Wasabi video | PopBuzz Meets
24 July 2020, 14:33 | Updated: 27 July 2020, 09:15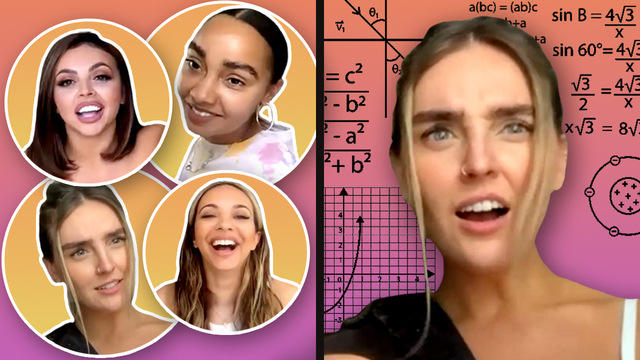 Little Mix vs 'The Most Impossible Little Mix Lyric Quiz' | PopBuzz Meets
Jade Thirlwall, Jesy Nelson, Perrie Edwards and Leigh-Anne Pinnock let slip the news while competing against each other in the Most Impossible Little Mix Lyric Quiz.
Little Mix have exclusively revealed that they planned an entire "iconic" 'Wasabi' video that sadly never saw the light of day.
Today (Jul 24), Little Mix virtually dropped by PopBuzz HQ to play a game of The Most Impossible Little Mix Lyric Quiz. Jade Thirlwall, Jesy Nelson, Perrie Edwards and Leigh-Anne Pinnock competed against each other to find out which one of them knows their lyrics best. Naturally, chaos ensued as each of them fought to win but only one of the girls came out on top.
READ MORE: Little Mix take on The Most Impossible Little Mix Quiz | PopBuzz Meets
That's not all though. Little Mix also let slip some news about their axed plans for a 'Wasabi' video involving Piers Morgan.
During the quiz, Little Mix revealed which song from LM5 they wish had been released as a single and they all said 'Wasabi'. Perrie exclaimed: "#JusticeForWasabi" and Jade added: "It's a travesty for pop culture that that song wasn't made a single." No truer words have ever been spoken.
To add insult to injury, Jesy then confirmed that Little Mix had a 'Wasabi' video concept ready to go too. She explained: "We had the best video ideas for 'Wasabi' and it would have been one of our most iconic videos if we'd have done what we wanted to do."
As for what the concept was, Jesy said: "Actually, I don't know if we can [say]." but Jade asked: "Oh about Piers?" and Jesy replied, "and someone else". While they didn't go into specifics, Jade teased: "We weren't afraid to say how we felt about certain people but we kind of did that on tour anyway for 'Wasabi'."
On the LM5 Tour, Little Mix opened their performance of 'Wasabi' with a mash-up of YouTubers and celebrities praising Little Mix for using their platform to promote body positivity and female empowerment.
In and amongst the videos though, was a clip from Good Morning Britain in which Piers Morgan says "Little Mix I think you need to make a public apology. If you've got the balls, come on this program and say it to my face" in reference to Jesy calling him a "silly twat" for slut-shaming the group.
The video then smoothly transitioned into Jesy singing the "come and say it to my face" lyric from 'Wasabi' before Perrie, Jade, Leigh-Anne and Jesy rose to the stage before launching into a fan-assisted choreographed rendition of 'Wasabi'.
Given how iconic the 'Wasabi' tour staging was, we can only imagine how iconic the video would have been.
Find out more and how Little Mix get on in The Most Impossible Little Mix Lyric Quiz above.