Louis Partridge talks Enola Holmes sequel with Millie Bobby Brown | PopBuzz Meets
18 September 2020, 11:51 | Updated: 6 October 2020, 10:16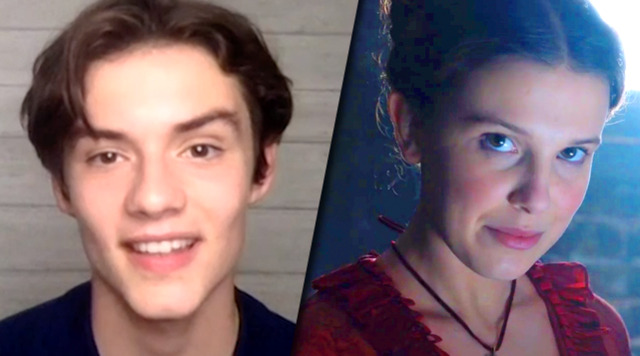 Louis Partridge teases Enola Holmes 2 with Millie Bobby Brown | PopBuzz Meets
Enola and Tewkesbury? We had to stan.
After watching Enola Holmes, we know one thing is for certain: Louis Partridge is about to become one of your new faves.
Millie Bobby Brown stars as the ~titular role~, the genius 16-year-old little sister of Sherlock and Mycroft Holmes, and she's joined on-screen by Louis, who plays the charming Viscount Tewkesbury.
And thanks to their on-screen rapport, you'll be dying to see more of them in action in a sequel.
PopBuzz hopped on a Zoom call with Louis to talk about his role as Tewkesbury in the film, whether or not he'd let Millie Bobby Brown actually cut his own hair (Enola cuts Tewkesbury's hair in the movie, in case you were wondering) and where he'd love to see Enola and Tewkesbury's relationship go next...
If we get to see them in a sequel, will they team up again as that dynamic duo we've come to love? Or could we see their relationship head in the direction of romance?
"I like that's it's not one thing. At the end of the film, I like that it's left sort of up in air. I'd like to see a bit more of both, to be honest. I think their relationship is so great that it could go either way but you sort of appreciate it for what it is. I'd like to see them together again because I think they work great as a dynamic duo. But undoubtably with a bit of that flirtiness that'll always be going on between Tewkesbury and Enola."
Oh, and for those of you who are dying to see more of Louis on screen in the future... He'd love to join the cast of Peaky Blinders. And we'd love to see it.
Enola Holmes lands on Netflix on September 23rd.