The Crown's Emma Corrin and Josh O'Connor talk Charles & Diana's bizarre date | PopBuzz Meets
16 November 2020, 09:35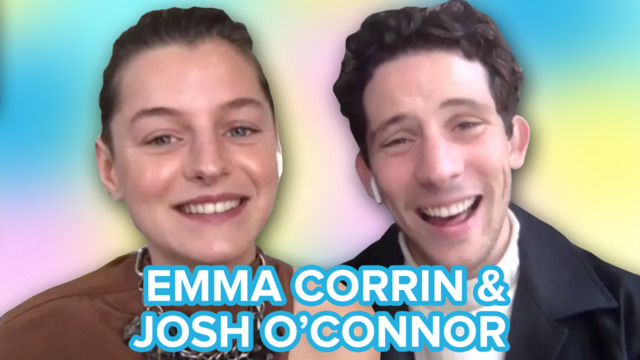 The Crown's Josh O'Connor and Emma Corrin talk bringing their nans on dates with them
The Crown returns for its fourth season on Nov 15th.
The thought of going on a date with your nan in tow might be the worst thing imaginable for most people but that's not the case for The Crown's Josh O'Connor and Emma Corrin.
The Crown returns to Netflix next month for its fourth season and will feature the most hotly-anticipated storyline in the show's history, the story of Charles and Diana.
Josh O'Connor returns to play Charles, while newcomer Emma Corrin dons some incredible 80s wigs and dresses (more on that in a moment) to become Diana. The opening episodes include some eye-opening scenes as Charles and Diana begin their relationship with some very peculiar courting rituals before going public in 1977.
WARNING: Minor season 4 spoilers ahead. If you don't want to know anything about the new season, do not read ahead.
READ MORE: Every show cancelled by Netflix in 2020 (so far)
In one of these scenes, Charles and Diana go on a date to the opera, supervised by Diana's nan. The scene is as awkward as you imagine it to be, but in an interview with PopBuzz, O'Connor reckons a date with his nan in tow wouldn't be so bad.
"[It would go] Pretty well to be honest! I think my grandmother would be top, top fun on a date. She can't brilliantly read a room though. If the date wasn't going well, she'd get her noise levels a bit wrong and say 'Josh, I really don't think this is going well' And you'd be like, 'We can all hear that. She can hear that'.
Emma said she wouldn't mind if someone brings their nan on a date but she draws a line at parents. "I think it would be quite kooky if someone bought their nan on a date. That would be jokes. If you brought your parents - that's weird, obviously. But if you brought your nan, that's quite cute."
Josh agreed: "It would be really adorable."
Elsewhere in the interview, Corrin discusses the research that went into the bulimia storyline, which is a recurring theme throughout the series, and O'Connor discusses the love between Charles and Diana, and most importantly, which of the many incredible wigs and outfits would they steal from the set (spoiler: the wardrobe department might want to check if any of Diana's hats are missing...)
Watch the full internet by hitting play on the video above or head over to the PopBuzz YouTube channel.