Victoria Monét talks Jaguar and collab dreams with Drake and Beyoncé | PopBuzz Meets
20 May 2020, 16:32 | Updated: 22 May 2020, 09:49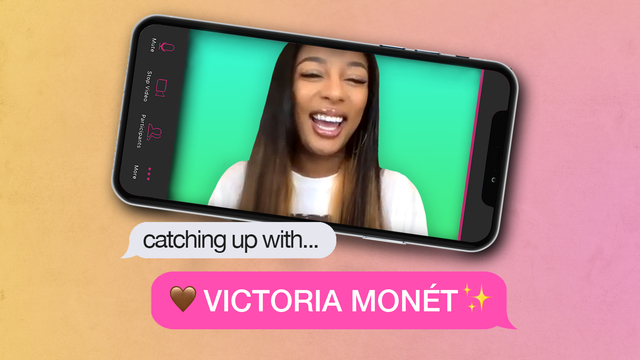 Victoria Monét talks Jaguar and collab dreams with Drake and Beyoncé | PopBuzz Meets
Victoria Monét also opened up about topping the charts with Ariana Grande and queer representation in the music industry.
Victoria Monét has gotten candid about her new music, dream collaborations and co-writing smash hits with Ariana Grande in an exclusive interview with PopBuzz.
Speaking about 'thank u, next' and '7 rings' both debuting at Number 1 on the charts, Victoria said it was "actually insane". She then added: " I feel like somewhat of an underdog on her projects because we always had great songs on the album but never the singles. To have the first singles that she ever released with us go Number 1, I was definitely high on life.
Victoria then let slip which of the previous songs she co-wrote with Ariana Grande she wished had been a single.
Victoria explained: "I honestly feel like 'Be Alright' was a really incredible song that could have been even bigger." She then added: "But when I go on tour [with her] and I hear people in the audience, I'm like people still resonate with the song, it doesn't matter that the label didn't put the budget behind it and push it to the charts."
She continued: "The point of the song is so that people really feel like, after some darkness, they are gonna feel fine when they hear that song. They can finally be celebratory. When I hear people in the arenas singing it that way. I still feel just as satisfied." Victoria also said that Ariana has become like her "sister in music".
In addition, Victoria revealed who she still dreams of working with. "Drake is one. Even to sing along to his rapping lyrics in the background. He's such an incredible writer. I also love Sade. I don't know how we'd collaborate but she's definitely on the bucket list. Beyoncé, Janet... the icons!"
Victoria Monét - Dive (Lyric Video)
As for collaborations on her upcoming project Jaguar, Victoria said: "On the first part there are no official collabs but I do plan on bringing people in for remixes... On the other part, I already have some lined up." Victoria then teased: "It's not gonna be any later than summer.
Victoria also spoke up about being black and bisexual and not seeing herself represented in music growing up. "I feel like I found about artists who were queer later in life. For instance, Whitney Houston, if I would have known that then, I wonder what it would have felt like."
She continued: "The world is now being forced to be ready for people like us. I think that's also part of the reason why my music feels more celebratory and nonchalant about sexuality because I don't care about anymore. I'm out. I feel free."
Victoria Monét will release Jaguar later this summer.