Your Least Favourite Riverdale Character Will "Definitely, Maybe" Be Returning For Season Two
7 August 2017, 16:44
Please god NO.
In case you haven't heard, Riverdale's KJ Apa is the latest guest on the PopBuzz Podcast and we had an amazing time. We asked him about his ginger hair, we quizzed him on his Riverdale knowledge and obviously asked him about all those unanswered questions from season one.
One of the BIGGEST questions that season one left unanswered was the entire storyline behind everybody's *least* favourite character Miss Grundy. Who actually was she? Why did she have a gun? Was she really telling the truth about her abusive ex-husband? And where the BLOODY hell did she go when she was shafted out of Riverdale by Mama Cooper? So many questions.
So, when we came face to face with her most recent inappropriate and underage victim Archiekins, we obviously decided to grill him on the subject and his response was not what we were expecting to be honest.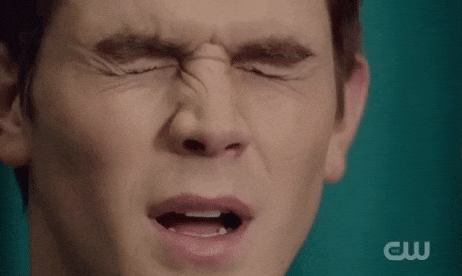 The CW
Just when you thought you'd seen the last of Miss Grundy... it sounds like she ~might~ be back for round two.
"Miss Grundy has taken off, she's taken out of Riverdale, she couldn't do it, she couldn't handle it. Ummm, no. I don't know - I think we may see her again. We may see her again in season two... definitely maybe," said KJ.
WHAT?! As for where KJ thinks his old on screen squeeze is currently hiding? He reckons she's "gone onto another school and she's got her eye on someone else. The next victim..."
The CW
But how and why will she come back? Well, there's already a fan theory circulating which involves Grundy's return to Riverdale. What if the shooter at Pop's was Miss Grundy's ex-husband who came to seek revenge on who ever was sleeping with his ex-wife? He could have assumed that Grundy was sleeping with Fred instead of Archie. And we already know that the gunman will be set to terrorise the town... could Grundy swoop in to save Archie from potential death?
Or maybe she'll just swing by to pick up her gun from Alice Cooper's house? Who knows but whatever she does, she better do it FAST and leave as quick as she walked back in. YA HEARD?!
Riverdale: The Complete First Season
will be
available on DVD
from August 14.
____ ____ ____ ____ ____
Listen to the #PopBuzzPodcast with Riverdale's KJ Apa right here or subscribe for free on iTunes to get new episodes sent straight to your phone every Friday.