The "FourFiveSeconds" Behind-The-Scenes Video Promises A Lot Of Denim
2 February 2015, 16:02 | Updated: 8 May 2017, 17:09
Rihanna, Kanye and Paul McCartney team up again for a high-profile Gap ad.
If Rihanna's upcoming music video is anything to go by, denim's making its official comeback ("But it never left?" Oh, it left, friend. Pick up a magazine).
"Kanye came up with the idea of doing just some real street-denim, all-American type look," explains RiRi in the behind-the-scenes video for "FourFiveSeconds", before showing off the oversized jacket that she's wearing on loan from Kanye's own wardrobe.
WELL.
"That's the look. Denim's classic, it never goes out of style, it's iconic - just like the f*cking Beatles!"
And we can name one icon who might agree with her. Also joining Ri and Ye on set was Paul McCartney, who has a credit on the new single from upcoming album R8.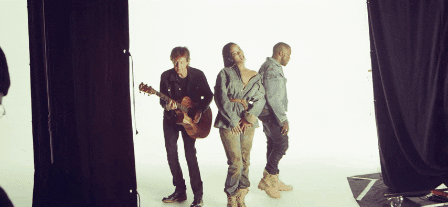 We've got the whole gang! And while there's no confirmed release date on either the album or the video just yet, the behind the-scenes is worth the watch just to remind you how much of a jam "FourFiveSeconds" is. Watch it, then go listen to the song again and watch a Gap ad as a temporary filler.