"FourFiveSeconds" Had A Secret Fourth Collaborator And You'll Never Guess Who It Is
1 April 2015, 11:21 | Updated: 8 May 2017, 17:09
HOLD ON.
Everyone's minds were well and truly blown when the unlikely dream team of Rihanna, Kanye West and Paul McCartney got together to produce "FourFiveSeconds", the first single from Rihanna's upcoming R8.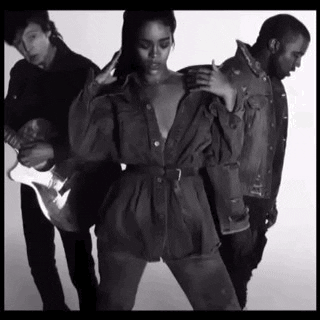 Literal #SquadGoals
But unbeknownst to most of the world for some bizarre reason, is that Rihanna's backing vocals on the chorus weren't just loops of herself, but vocal band Wilson Phillips. Yep, Kanye brought on another collaborator that we just straight-up didn't know about.
"He said, 'When I think of authenticity and I think of angelic, I think of you,'" admits the band's front woman Carnie Wilson in an interview with Billboard this week. "He was really shy and he would just smile and he's real soft-spoken, then all of a sudden when he started playing all these songs, he was dancing around the room."
Kanye previewed the track for the group, as well as "Only One" and Madonna's "Illuminati", before giving "FourFiveSeconds" to the trio to work on outside the studio.
Turns out, if we'd been paying any attention to Carnie's Twitter, we'd have known this awesome little nugget of information sooner:
FUN FACT!!!!! Wilson Phillips singing backgrounds on the new Rihanna song #FourFiveSeconds #Total#Honor

— Carnie Wilson (@CarnieWilson) February 10, 2015
Really this whole article is just a great opportunity for us to share one of our favourite 90's jams with you. Listen to Wilson Phillips' "Hold On" below and bask in the throwback.