6 Of Our Favourite Unlikely Musical Friendships
6 October 2015, 16:02 | Updated: 15 November 2016, 16:28
Promoted by Galaxy Duet
Sometimes the most unlikely artists make the sweetest music together.
It's no secret that some of our favourite artists are all really good pals: Taylor Swift has her ever-growing squad, Rihanna and Katy Perry are pretty tight-knit, and pretty much everybody wants to be friends with Beyoncé (even us; I mean, come on).
But there are some friendships between artists that are a bit harder to explain: where did they come from? What do they do when they hang out? and what would a collab sound like? Here's just a handful of our favourite odd pairings in music right now:
1. Taylor Swift and Kanye West
After their legendary six-year feud came to an end earlier this year, Tay and Ye have been nothing but sweet to one another - Kanye sent Taylor an enormous bouquet of flowers after her epic night at the VMAs, and she's endorsing his 2020 presidential campaign.
2. Fall Out Boy and Wiz Khalifa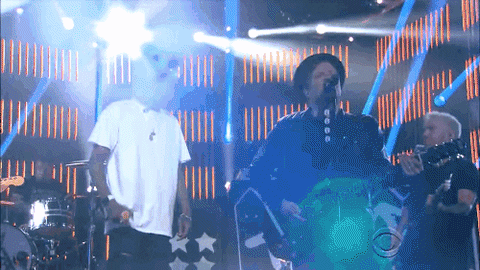 The kings of pop-punk have been revamping their sound lately, and after Wiz's epic live cameo during their Billboards performance, their combined onstage chemistry has resulted in a lot more collaborating on the Boys Of Zummer Tour.
3. Demi Lovato and Iggy Azalea
Iggy has collaborated with quite a few artists on and off in her rise to stardom, but has found a firm friend in Demi. The "Cool For The Summer" singer has remained completely in the rapper's corner, and will also be a bridesmaid at her upcoming wedding!
4. Beyoncé and Ed Sheeran
The Queen of the Universe apparently has a lot of respect for the nerdiest white boy in pop. Beyoncé and Ed have performed on stage together a number of times, most recently with Bey brining him out during one of her shows to play an acoustic rendition of "Drunk In Love".
5. Miley Cyrus and Wayne Coyne
The 54 year-old frontman of the Flaming Lips doesn't seem like the best choice of BFF for a 22 year-old former Disney starlet, but Wayne and Miley's eccentric attitudes towards life seem to compliment each other pretty well; plus he's been a major influence in the much more trippy direction of her new music.
6. Lady Gaga and Tony Bennett
A classically trained singer, Gaga surprised everyone when she took some time off from the thumping pop bangers we're used to, and started working on some smooth, stripped-back lounge classics with legendary crooner Tony Bennett. But the pop diva and Tony's collaboration and friendship has given us all some serious goals.