The "Bohemian Rhapsody" Scene From Wayne's World Gets An All-Girl Reboot And It's Awesome
10 March 2015, 14:52 | Updated: 8 May 2017, 17:09
These girls are all of us.
At least once in your life you've had a headbanging session in your car to Queen's "Bohemian Rhapsody". Come on, admit it; it's been a life goal for all of us since we first saw Wayne's World.
And here at PopBuzz, we have divided opinions about sexy reboots of Hollywood classics. But when Mike Meyers and Dana Carvey's hairy alter-egos Wayne and Garth get swapped out for this: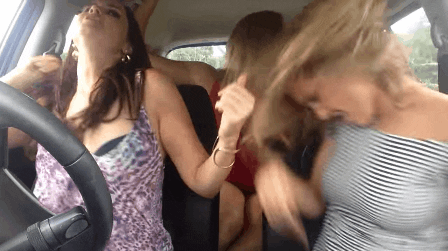 We can prroooobably make an exception.
The girls at fledgling YouTube channel SketchShe have found instant viral success with their "Bohemian Carsody" video, a hyper-speed hyperactive jamming session to the iconic Queen track. In the video description they promise "head banging, boob grabbing and heartfelt emotion"; and there's actually tons of each.
It's refreshingly unapologetic.
And while the massive success of the video has obviously attracted a lot of creepers in the comments, there's no denying that this is nothing but a good-natured rock-out between pals. Because we've ALL been there at some point.
Now if you'll excuse us, we have a Queen tape somewhere to play. Check out the video below.