Guy Looks Like Steve Aoki, Spends Three Hours Trolling Fans At An EDM Festival
3 December 2014, 15:12 | Updated: 8 May 2017, 17:09
They say you should never meet your heroes. Luckily, none of these people did.
When you get mistaken for somebody as often as photographer Jarrad Seng has, the best thing to do is just own it, and turn it into an amazing prank.
Jarrad gets compared to EDM superstar Steve Aoki a lot, and he decided to use this to his advantage. Inspired in part by Hollaback's viral video "10 Hours Of Walking Around NYC As A Woman", and donning some fake facial hair and some big shades, Jarrad went for a wander for three hours around Stereosonic Perth, one of Australia's biggest electronic festivals, dressed as headlining act Steve Aoki.
"Yeah so I get mistaken for Steve Aoki a LOT. Especially as a photographer working in the music industry (I've toured and directed videos for artists like Passenger). It's been a weekly thing for the past five years... at music festivals, bars, on Instagram... it even happened on the streets of Barcelona once. So the other day when I saw that New York catcall video I wondered what would happen if I did the same thing... but as Steve. At stereosonic. Where he was headlining."

Jarrad Seng, 3 Hours of Walking around Stereosonic as Steve Aoki
Pretty much everyone who saw him took the bait, and it's absolutely hilarious. Soon he was literally bouncing from selfie-to-selfie with bros in flower crowns.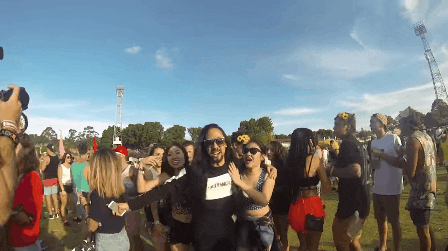 It got even better when the REAL Steve Aoki finally took to the stage.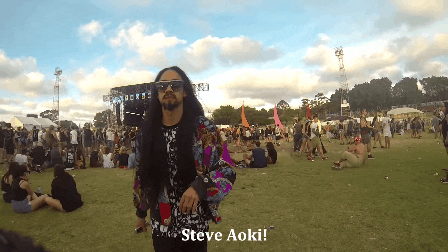 Jarrad admits in the video description that he feels bad for the amount of people he convinced, saying he "owes a beer or two". Or, like, a hundred.
In a radio interview segment at the end of Jarrad's video, Steve Aoki admits that he saw Jarrad during his set, and is filled in on the joke of his identity theft. Luckily he took it pretty well.
Check out the full thing below.