Here's How 18 Year Old Martin Garrix Became A Superstar DJ Overnight
17 April 2015, 14:31 | Updated: 8 May 2017, 17:09
Martin Garrix is about to take over the music industry.
At 18 years old, a full-time gig as an international EDM DJ is probably not on the cards for a lot of people. University, students loans, and part time jobs are more the norm.
That's not the case for Dutch DJ Martin Garrix who, at 18 years old, has worked with Usher, Afrojack, Tiësto, and Dillon Francis--just to name a few.
Before he was even 10 years old Martin Garrix got the EDM bug from an Olympic Tiësto set. He says he never had an interest in electric music before that but Tiësto's set made an impression.
He played his first club gig at the age of 13 in an Amsterdam nightclub.
When he was 15, one of his remixes landed on a Christina Aguilera Lotus re-issue. Before that he worked on a combination of original and remixed music. He even released music through Tiësto's label at one point.
His big break really came when the EDM scene latched onto his song "Animals"
You have definitely heard this song before. It became the most played song at EDM Las Vegas 2013.
He is currently signed to Scooter Braun's label
This makes him label mates with Carly Rae Jepsen, Justin Bieber, Tori Kelly, and Psy. All of these musicians are positioned really well in their respective genres so it's only a matter of time until Martin Garrix is a household name.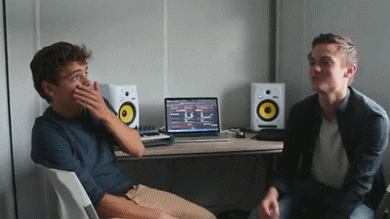 Keep in mind he is only 18
But he's already toured the world, worked with major stars, and done everything anyone could ever wanted to do in their whole life. It's like he's taken Advanced Placement Life.
It also doesn't hurt that he looks like this
And also this

Recently he got to play Ultra with his hero, Tiesto.
@tiesto pic.twitter.com/2hLhyzKMNj

— MARTIN GARRIX (@MartinGarrix) March 28, 2015
And now he has a collaboration out with Usher
#DontLookDown March 17th | @Usher pic.twitter.com/NHCdJzWS7N

— MARTIN GARRIX (@MartinGarrix) March 12, 2015
But the good news is that he still looks like this
But seriously, Martin Garrix is about to become a household name
Thanks to his dedication to his music and some crafty collaborations with big names. You could even say that he is well on his way to becoming the Justin Bieber of the EDM world (only probably less bad). At only 18 years old, Martin Garrix looks poised to completely take on the music industry thanks to Scooter Braun and his own killer DJ instincts.