Here's Why Asian Rap Is Becoming Massive
6 March 2015, 15:54 | Updated: 8 May 2017, 17:09
Korean trap music rules us.
Hip hop, as a form of music, remains one of the most copied and imitable fringes of modern culture. Its varying forms and sounds make it ripe for copycats and wannabes; but the most interesting iteration of hip hop culture is likely coming from Asia.
South Korea, for example, models many of its Kpop acts after American and British hit makers. Western influence is everywhere to be found in Kpop, from music video tropes to actual beats and production.
For a while Korean acts struggled to reconcile how they would maintain the shiny, happy veneer of their hyper-choreographed pop acts alongside the inevitable evolution of the popular Western music they drew much of their inspiration from.
Korean mainstream hip hop, hints at major multi million dollar attempts at figuring out how to marry a still glossy and often robotic image with the slightly edgy sounds of hip hop and rap music.
2NE1 (CL in particular) is a prime example of second wave Korean hip hop that is slightly left of centre but still too put together to be credible. Fast-forward to the underground proliferation of trap music in the US and it was only a matter of time before Korean and Japanese music got trapified as well.
We've covered Japanese rapper Kohh before but certainly outside the context of Asian trap peerage.
His work on Keith Ape's "IT G Ma" is likely one of the most notable examples of Asian transnational collaboration for the genre.
It G Ma really blew up Asian hip-hop/rap that's crazy

— △SPHALT (@TheNickosaurus) February 28, 2015
And if there weren't enough people hopping on "No Flex Zone" remixes, Korean rappers Okasian and Play$tar want you to hear their take on the Rae Sremmurd original.

Some of the time, this third wave of Asian hip hop can sound quite innovative; other times it can sound like refried Migos.
Asian HIP HOP music in my opinion will almost definitely sound like American HIP HOP, similar bass-y beats, just different languages spoken

— Mark Estrada (@markAYYestrada) February 9, 2015

Korean and Japanese hip-hop is certainly not the worst thing happening to the genre.

Production for the asian trap scene is usually high quality. The flows, though often times borrowed, are executed well enough to carry a similar weight to their originators. And, despite all the blustering from many hip hop purists, this music is actually very catchy.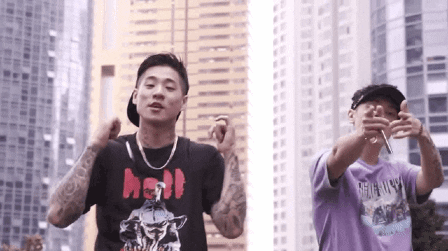 Man we been sleepin on Asian hip hop pic.twitter.com/BQIdn4eyIB

— so wavy (@asapkoff) February 5, 2015