Here's Why Cara Delevingne Is The Queen Of Everything And You Should Be Prepared
7 April 2015, 16:34 | Updated: 8 May 2017, 17:09
All hail Queen Cara
Unless you have been living under a rock for the last two years, you'll definitely have noticed the meteoric rise of model-turned-actress-turned singer, Cara Delevingne. In fact, she is so multi-purpose that Popbuzz HQ have dubbed her the swiss army knife of celebrities.
She first came to our attention as the BFF of Rita Ora but soon broke away from the gruesome twosome as her eyebrows began to gain a following of their own.
She's got 13 million Instagram and twitter followers and If you were seriously wondering what makes Cara the queen of everything, a quick look at her entire existence should clarify things.
Modelling
She started seriously modelling in 2009/2010 but, prior to that, you will definitely have heard of her famous aristocratic family The Delevingnes (she's probably the poshest model in the business).
A couple of Victoria Secret appearances, a big time Chanel gig, and one model bestie later, Cara managed achieve "IT-girl" status thanks, in part, to her famous eyebrows.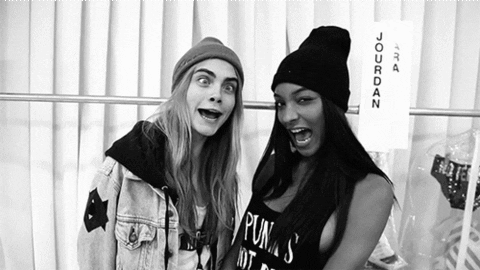 Acting
After sufficiently conquering the modelling world, Cara caught the acting bug and landed herself a small part in 2012's Anna Karenina.
Since then she's been able to add a bunch of acting credits to her name--most recently Paper Towns and Guy Ritchie's Knights of The Round Table with her older sister Poppy. She's also done voice work for GTA V if you're really digging deep.
Music
So apparently, for the last few years, Jay Z has been trying to sign Cara to his Roc Nation label. No word on whether they have inked a secret deal but if they have, she certainly would be in good company.
Her friends Rita Ora, Rihanna, and Jourdan Dunn all have deals with Jay Z (Jourdan has a cooking show with Jay Z's lifestyle brand) and if that mysterious hand thing is anything to go by, Cara and Beyoncé are already tight.
On top of that, Cara got seriously baroque with Pharrell last year for Chanel's SS/2015 show.
Oh yeah, and she plays the drums? Très cool. Still not convinced she's the Queen?
Here is a picture of Cara with a baby lion ✓✓✓