12 Reasons why Hey Violet Will Be Your New Favourite Band.
21 August 2015, 15:25 | Updated: 8 May 2017, 17:09
We can just feel it...
Hello PopBuzz reader, we hope you're well!
We've got something important to talk about and it involves music, pop punk and A REALLY AMAZING BAND THAT WE'RE IN LOVE WITH!
So, some of you will probably of heard of Hey Violet, but for those of you that haven't here's the 411.
1) Hey Violet are comprised of Miranda Miller, Nia and Rena Lovelis and Casey Moretam and are from sunny ole' L.A. Here's a picture of them.
Hair game on point.
2) They're signed to Hi or Hey Records, which the super-fans of you will know is only bloomin' 5 Seconds Of Summer's imprint of Capitol Records.

3) In fact, their affiliation with 5 Seconds Of Summer doesn't stop there, as they actually supported the boys on the European and US legs of their 'Rock Out with Your Socks Out Tour'. Amazing.

4) The band are really active on their YouTube page. Here's them covering Echosmith's "Cool Kids".
Seriously, Rena can SING.
5) Here's another one where they introduce their pets. We're not actually joking.
So many animals.
6) The band recently released their debut EP I Can Feel It. Here's the video for the lead single that, surprisingly, is called "I Can Feel It".
This is quite literally a very good song.
7) In fact, rather than make you login to Spotify (other streaming services are available), the band have popped the whole EP on YouTube. What a lovely bunch.
(How good is "You Don't Love Me Like You Should"? Like, totally amazing.)
8) One song they've shared is "Sparks Fly", which is a totally emoshe mega-ballad that we actually can't stop playing (and, if you've not already heard it, we think you'll be the same).
*Crying face emoji*
9) Judging from the band's Instagram, they're pretty partial to a selfie, especially Nia.
hi hun.

10) You may be thinking "Oh, Hey Violet look pretty familiar, don't they?" Well, you'd be right as the band were originally called Cherri Bomb and were signed to Hollywood Records (Disney's record label, don't you know). Here's Cherri Bomb's "The Pretender".
You might be thinking "Where is Casey?" Well, prior the band had a member called Julia Pierce. However, due to 'creative differences', Julia left the band and Casey took her place.
11) The guys have some pretty impressive style icons, including our bae Hayley Willians, Gwen Stefani, David Bowie and even Beyoncé.

12) Oh, and did we mention they're hella cool!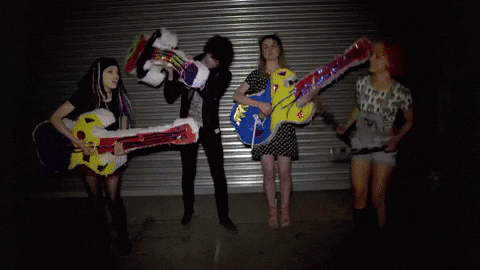 Do you love Hey Violet as much as us? Hit us up, yo!