Watch YouTuber Andrew Huang Play Hits Of 2014 With Household Items
30 December 2014, 18:11 | Updated: 8 May 2017, 17:09
Is there anything this guy can't use as an instrument?
Andrew Huang is at it again. After several awesome videos this year that include using office supplies and even sounds from a comet to create music, the YouTuber is giving 2014 an excellent send-off with a roundup of some of the year's biggest singles - all played on random household objects.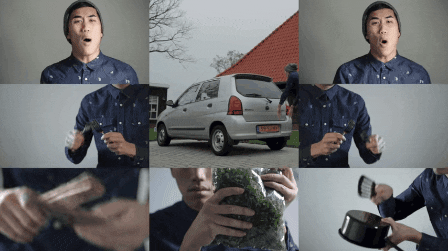 Using pans, shoes, his car and even a nifty balloon saxophone, Andrew runs through a medley of six of the year's biggest hits, from "Rather Be" to "Shake It Off".
We can't even find half our household items, let alone make sweet music with them.
Click through on the video to find a list in the description of all the items Andrew uses.
When he hasn't been working on this video, Andrew has been working on his latest album Comet. Last month Andrew turned recordings from the Rosetta probe of frequencies from Comet 67P into a beautiful cover of "Across The Universe", and he has now used those same samplings to create a whole 9-track album. Seriously.
Here's hoping Andrew will continue making incredible content well into 2015 and beyond.