ICYMI: The Best New Songs From This Week
24 April 2015, 15:05 | Updated: 8 May 2017, 17:09
The best new music you may have missed
Friday is as good a time as any to bask in this week's newest and best music. Predictably, this week's tracks have taken a decidedly warmer tone. It's springtime, guys. Time to get your warm weather playlists on fleek.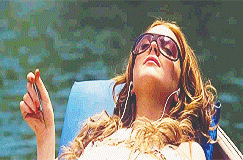 Girlpool//Before The World Was Big

California natives Girlpool are never short of those addictive bass licks we've come to know them for. The song is sparse but injected with their signature youthful exuberance.
Young Thug//Check
Raise your hand if you're a trap star. Young Thugs latest, a manic, stuttering bassy production is the perfect turn up for the weekend. This release comes from Young Thug's Barter 6 which is like…comedy in itself.
Stalgia//Tepid
Don't ask where Stalgia are from. Don't ask who is in Stalgia. And don't ask when Stalgia are going to have a full album or EP out. Just press play and soak in the vibes.
Lunchmoney Lewis//Mama
Lunchmoney Lewis followed up his ultra catchy debut single "Bills" with a full EP. Each track is upbeat and enjoyable in its own way but "Mama" has to be a stand out on the brilliant release.
Ta-Ku//Love Again

We covered Ta-Ku earlier in the week so it's rather fortuitous that he would drop a single the same week. It's been a year for the producer but his newest track is a smooth r&b inflected romance jam. Definitely worth a listen.