Watch Ingrid Michaelson's Beautiful Piano Cover Of Taylor Swift's "Clean"
15 December 2014, 12:43 | Updated: 8 May 2017, 17:09
The singer-songwriter honours the other singer-songwriter at Billboard's Women In Music.
We've already seen the insane birthday weekend Taylor Swift had - but before the celebrations she got a couple of extra gifts, from Billboard and singer-songwriter Ingrid Michaelson.
Billboard's "Women in Music" event was held the day before Tay's birthday, and of course she was there to pick up her award for Woman Of The Year. Her second time receiving the honour. No biggie. Just casual.
In honour of Taylor's achievements over the year, Ingrid Michaelson took to the stage to perform a cover of "Clean", her favourite track from 1989, but not before admitting beforehand that she had bugged Tay for the song before the album's release.
"Taylor played me a few songs off her new record in her apartment. We danced around and drank wine... and had pillow fights, yes. And this one song was just so beautiful that I begged her to send it to me, and she said no. I said, 'Please?' and she said, 'No.'"

Ingrid Michaelson, Billboard's Women In Music
Her personal connection to the song, co-written by Imogen Heap really stands out in her performance, and it's clear to see why it earned Tay's approval from within the audience.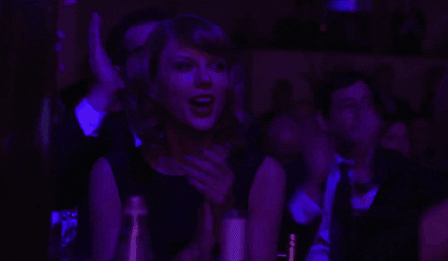 Almost as great as a rendition of "Happy Birthday" from Aretha Franklin.