Are you more Alt TikTok or Straight TikTok?
10 June 2020, 17:29 | Updated: 3 November 2020, 10:27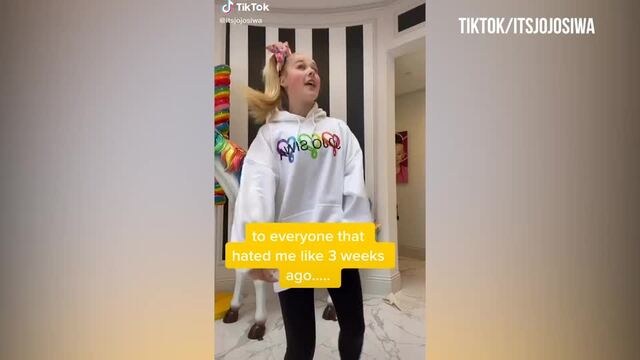 JoJo Siwa keeps roasting her haters on TikTok
First of all... what does Alt TikTok and Straight TikTok even mean?
After months spent in lockdown, it's safe to assume that we're all now either familiar with, or deeply deeply invested in the world of TikTok, right?
Whether you joined just to scroll and laugh, or to showcase your comedy skills, or to bless the world with your absolutely killer dance moves, there's so many different kinds of TikTok users. Maybe you're a mix of all of them – a well rounded TikToker! That's the beauty of TikTok.
READ MORE: Best TikTok songs 2020: Every viral song from TikTok
Now, there's apparently two different sides to TikTok. Users are categorising other users based on the type of content they produce, and placing them in either 'Alt TikTok' or 'Straight TikTok'. But what does it all mean?
What is Alt TikTok and what is Straight TikTok?
Alt TikTok is basically like the old school Vine comedy side of TikTok. A user submitted definition on Urban Dictionary describes it as "filled with punks, people who love music, fashion and all that other artsy stuff, alt people, gay people, and goths. There's actually funny and high quality content on Alt Tiktok. There's no hype house, no verified creators, no cringe, and no thirst traps".
Alt TikTok is full of random, chaotic Gen Z humour and joke references that you'll only understand if you live on the internet, like #FreeAdam2020. Weirdness is celebrated. Alt TikTokers tend to troll Straight TikTokers... a lot.
Straight TikTok is more mainstream. It's the usual stuff you would associate with the app, like the dancing and lip syncing from Hype House types. Urban Dictionary describes it as "mostly hypehouse, dances, and povs". If your For You Page is mostly Hype House members and viral dances, then you could be considered more Straight TikTok.
While the two sides originally started based on sexuality, there's now very little correlation. Alt TikTok and Straight TikTok is mostly based on types of content instead.
anyone else on straight tiktok but also on alt tiktok? cuz i'm on both

— abby (@abbynotfound) June 5, 2020
soon political parties won't exist in america and you will just have to identify as either straight or alt tiktok

— Adam Tyler (@adamtyIer) June 6, 2020
real question are you guys on straight or alt tiktok

— Christopher Romero (@TheChrisRomerro) June 7, 2020
So, which one are you? Are you more Alt TikTok or Straight TikTok?
First of all, we should stress... you like what you like. There's no "better" side of TikTok. Do what you want, watch what you love, share your talents no matter what they are!
Maybe you're more one than the other, or maybe you're a mix of both... Maybe you're neither and exist solely in the One Direction side of TikTok? We don't know your life. But, if you are curious, you can take the Alt TikTok Google Forms quiz, which consists of 11 questions about Alt TikTok, each worth four points each. The more you get right, the more likely you are to be in Alt TikTok.
Or, you can take this very unscientific quiz below, to see where you might fall on the Great TikTok Divide.