13RW "Copycats" Force Facebook To Change Self-Harming Video Policies
22 May 2017, 15:28 | Updated: 18 January 2018, 16:33
The success of the Netflix drama is thought to be related to a sudden rise in self-harming videos and images posted on the social media site.
Facebook moderators were told to alert senior mangers of any content related to 13 Reasons Why due to fears that users would attempt to imitate the self-harming portrayed in the Netflix show.
The Guardian has obtained leaked memos from the social media giant regarding its approach to livestreaming, particularly around the topic of self-harming which has seen a significant increase in recent months.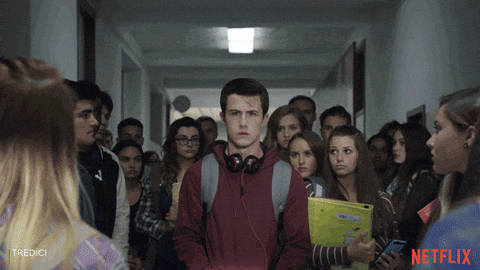 Netflix
The site has been forced to update its policy surrounding self harm after a series of reported suicides took place using the Facebook Live video tool.
"We're now seeing more video content – including suicides – shared on Facebook. We don't want to censor or punish people in distress who are attempting suicide. Experts have told us what's best for these people's safety is to let them livestream as long as they are engaging with viewers. However, because of the contagion risk [ie some people who see suicide are more likely to consider suicide], what's best for the safety of people watching these videos is for us to remove them once there's no longer an opportunity to help the person. We also need to consider newsworthiness, and there may be particular moments or public events that are part of a broader public conversation that warrant leaving up."
The company also now has a system in place where they will attempt to contact relevant agencies to conduct a "welfare check" if a user is thought to be at risk or considering attempting suicide.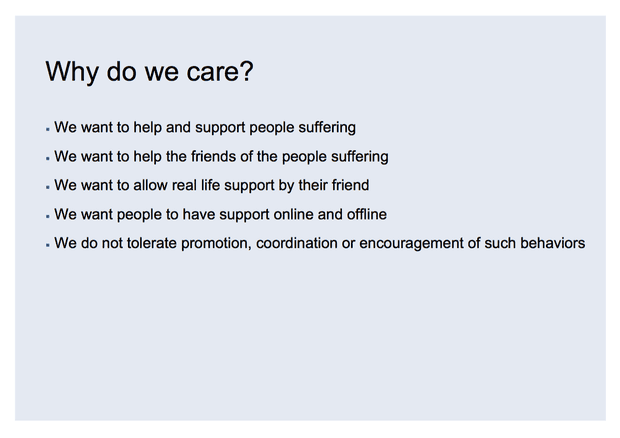 Facebook, The Guardian
However, moderators are also told to ignore suicide threats when the "intention is only expressed through hashtags or emoticons", when the proposed method is unlikely to succeed or if the threat to kill themselves is more than five days in the future.
13 Reasons Why has already been simultaneously condemned by mental health charities and praised by teenagers for its graphic portrayal of teen suicide. Figures for 2017 show 5,016 reports on Facebook of self-harm in one two-week period and 5,431 in another.
If you or someone you know is affected by the subject matter of 13RW, there is a list of organisations you can contact here.
____ ____ ____ ____ ____
Listen to the #PopBuzzPodcast with Brendon Urie right here or subscribe for free on iTunes to get new episodes sent straight to your phone every Friday.