5 Times Black Twitter Outdid Itself In 2015
8 December 2015, 16:28 | Updated: 8 May 2017, 17:09
MmmmMM oh my gOD
Ever wonder where the top notch memes come from? You know, the really good ones? Chances are that they have some sort of root in Black Twitter. Black Twitter, which apparently has its own Wikipedia page, is the collective name for the twitter community rooted in black culture. It includes black writers, commentators, and activists, along with the wider black twitter public. This year, Black Twitter was definitely on its 'A' game, producing some of the best memes and movements in modern times.

Why you always lyin' basically revolutionized the meme game.
It all started with a short Instagram video that quite literally set the world on fire. @Downgoes.Fraser, aka Nick, is the genius behind one of this year's best memes and, needless to say, Black Twitter embraced it with open arms. Nick's face became the universal sign for a liar and is interchangeable with the actual phrase "why are you always lying?" mmmMMmm oh my gOd.
" My phone died " " Didnt get your text " " I forgot to press send " " I was sleep " " Service is bad here " pic.twitter.com/5pNsSGZEoT

— 6'7 (@obidawson) October 14, 2015
In fact, the meme was so lit, people just couldn't resist making it their Halloween costume. Now that's how you know your meme has made it.
I couldn't get everybody but I really appreciate it pic.twitter.com/ErS4vWpQJv

— Nicholas Fraser (@_DowngoesFraser) November 2, 2015

"Miley What's Good" was a huge moment for Black Twitter.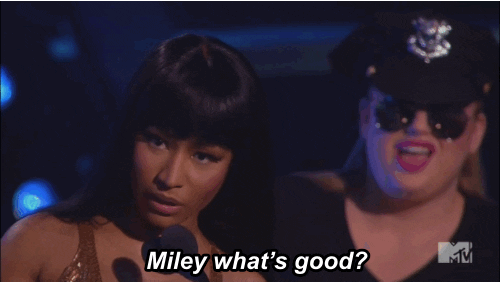 And not just because it was funny as hell. It represented the moment a massive icon in the community stood up to one of pop culture's biggest darlings. It felt like Nicki had expressed the frustrations every poc felt when being told not to stand up for themselves on social issues. And the best part? She summed it up in one sentence--three words: "Miley, what's good?"
As was to be expected, black twitter was all over this one, immortalizing Nicki's famous words for weeks in the form of hilarious tweets.
@BLVCKMATTERS #mileywhatsgood pic.twitter.com/unWQg70olY

— PharaohNextDoor (@DJ_Cocoa_Butter) September 26, 2015
- I died about 4 times watching this! #MileyWhatsGood #Rugrats pic.twitter.com/grmJ2vV5gf

— Cece (@Babybob2121) September 22, 2015

Netflix and chill


According to knowyourmeme, Black Twitter were the true pioneers behind Netflix and chill, one of the most awkward memes your parents definitely texted you about this year.It took the well known fact that nobody can actually get through a movie when hormones are involved, and turned it into the most ubiquitous meme of the year.
The "Netflix and chill" starter pack pic.twitter.com/JaQuCtMaoq

— Starter Pack (@Start3rPack) November 17, 2014
You know you're influential when you can change the word for "sex".

#ThanksgivingClapback and #GrowingUpBlack summed up the hilarious experience of being a person of colour
There's nothing quite as important as being able to share a common experience--especially on Black Twitter. The #GrowingUpBlack and #ThanksgivingClapback perfectly summed up what it was like to be a part of a black family and, once again, Black Twitter truly outdid themselves.
This was the best #ThanksgivingClapBack tbh pic.twitter.com/erpNCpd8aa

— Crown. [DRYX] (@MotivateSean) December 6, 2015
#GrowingUpBlack "Lemme know when it start burnin" pic.twitter.com/roq7Rfzc4Z

— NamiGod (@JohnnyNami) July 22, 2015

The Black Lives Matter movement grew to epic proportions thanks to Black Twitter.
Black Lives Matter is, of course, the political movement which began last year after multiple killings of young POC. Last year the movement was finding its legs, this year BLM has well and truly gone mainstream. Celebrities, politicians, and athletes alike have tweeted and shared support for the movement. #BlackLivesMatter went from a hashtag in 2014 to a global political movement in 2015 all because Black Twitter refused to let it become a passing fad.
#Video Zendaya explains why #BlackLivesMatter pic.twitter.com/Wj3cBB8RoG

— iWerkIt4Z (@dumas1000) December 3, 2015
Stop making us feel sorry for saying that #BlackLivesMatter pic.twitter.com/zAGQkXWDAQ

— Peter Palmer (@IAmPeterPalmer) December 1, 2015