Brooklyn Beckham Forced To Delete "Offensive" Instagram Picture After Fans Kick Off
4 September 2017, 15:30
The photographer has since released a statement.
A few days ago, Brooklyn Beckham shared a snap of a series of pics from his latest photoshoot with photographer Damon Baker, who has also recently shot Bella Thorne, Cole Sprouse, Cameron Dallas and Chloe Grace Moretz.
The shoot itself looks amazing. Grown up Brooklyn posing in a series of signature black and white shots by Damon, flashing his tats and looking every inch the Beckham he was born to be. But after posting a close up of one certain picture in the series, Brooklyn was then dragged in the comments for it.
The picture in question? It's the one of him holding a prop gun. (Seen in row 3 and row 4.)
Fans immediately took to the comment section of Brooklyn's IG account to express their disgust and disappointment that he chose to upload the picture and claimed he was "romanticising and promoting gun violence."
Instagram
Others were also quick to defend the shoot by saying, "Nothing wrong with the gun photos. It's called art. Clearly some people don't get it." Another user said "Who gives a sh*t if he decides to use a gun. I have used guns in my shoots and I think it's fun, wild, creative and it's supposed to shock you."
The individual picture has now been deleted from both Brooklyn's and Damon's Instagram accounts (the smaller thumbnail from the contact sheet still remains on his account) and Damon issued a statement via his IG in regards to the backlash Brooklyn has been getting.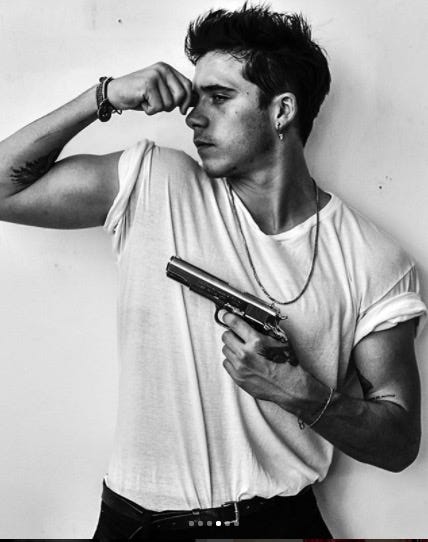 Damon Baker / via Instagram
Here's his statement in full: "Hi, my name is Damon and I would like to comment on the recent controversy surrounding my pictures with Brooklyn Beckham. I decided to shoot Brooklyn in a black and white portrait series, in a few of the shots he is photographed with a prop gun. I feel that this creative moment was unfairly seized and exploited to fit the narrative of "Brooklyn Beckham promotes gun violence." It is a sad but true fact of the current world we live in that guns are everywhere.
They are in every other Hollywood film, they are on the streets, they are on the fields of the endless wars that our governments have launched. I come from a poor section of Birmingham, England. Where inequality and unemployment are the highest in the country. In these desperate conditions people often turn to crime, guns play a big part here. I've seen it first hand. I feel that it is the role of art to expose truths about the times we are living in. In these particular pictures I saw Brooklyn as a subject, a model. A blank canvas. For me he played a role the same way that a famous actor/actress would play in a gun packed action film or more preferably if they played a role in a film exposing the honest reality of gun violence.
When I look at our work I don't feel that it in any way promotes gun violence as much as it exposes the gun as a tool used to control the masses and uphold a system of oppression. That's why I directed him to point it right at the camera. You may feel triggered, you may even walk away with a different interpretation, but that's art. If it doesn't move you, if it doesn't wake you up, what's the point? In many ways we are living in dark times, where freedoms and livelihoods are being stripped from the people pretty much at gunpoint. I don't think it is the job of my generation to sugar coat reality."
There you have it. What do you think? Was Brooklyn right to remove the picture from his Instagram? Or did everyone just overreact to the image?