Club Penguin Is Shutting Down After 11 Years And Everyone Is Freaking TF Out
1 February 2017, 13:05 | Updated: 8 May 2017, 17:09
The server has automatically banned you for saying a bad word. You said "Lettuce".
We hate to break this hideous news to you but it's over. Club Penguin as we know it is O-V-E-R. The popular Disney-owned social network for kids is being shut down after 11 years and in its place will be a brand new mobile network called Club Penguin Island.
The sudden and tragic announcement revealed that the final day of Club Penguin on desktop and mobile devices will be March 29 before it's shut down ~forever~. Club Penguin Island will launch shortly after.
FOX / via giphy.com
We haven't logged in for at least 2500 days but this is LITERALLY the worst news of all time. Who could forget being banned for saying "Tomato"? Or when you submitted a joke to the newspaper and it finally got picked. The friggin' St Patrick's Day edition glo-up, anyone? TRYING TO TIP THE ICEBERG!? Even the 2016 Trump protest made the history books.
It is truly the end of an era and pretty much everyone on Twitter is now freaking out.
Club Penguin is officially shutting down, let us take a moment to appreciate the good times. pic.twitter.com/bZ6Syuu0UG

— Tom Davies (@1TD) January 31, 2017
so i logged into club penguin for old times sake and the ice berg is tipping after 11 long years pic.twitter.com/XIgllkJ3sj

— peej (@peeeejy) January 31, 2017
There's a protest on club penguin to save it and I'm crying because it's probably all grown adults pic.twitter.com/wjYdsPjLdo

— alyssa (@alyssadudleyyy) February 1, 2017
AS IF 2017 WASNT BAD ENOUGH ALREADY, NOW THEY'RE SHUTTING DOWN CLUB PENGUIN pic.twitter.com/L3Kxv0jkMs

— Sarcasm (@TheFunnyTeens) February 1, 2017
I can't stop crying about Club Penguin being shutdown

— Keaton Keller (@keaton) February 1, 2017
Club Penguin is shutting down aka my entire childhood is going down the drain wow I'm gonna cry RIP greendude50

— James Charles (@jamescharles) February 1, 2017
*club penguin exists and i haven't been on it for years*

*club penguin announces they're shutting down*

me: pic.twitter.com/85ovv5lMzf

— FREDDY (@FreddyAmazin) January 31, 2017
i haven't played on club penguin in at least 8 years but the fact it's shutting down is still THE WORST THING THAT'S EVER HAPPENED TO ME

— Ewan McIntosh (@Ewan_McIntosh) January 31, 2017
they're deleting club penguin? might as well delete my childhood

— sam (@itsSamCollins) January 31, 2017
RETWEET IF CLUB PENGUIN WAS ONCE YOUR ENTIRE LIFE

— Tanner Fox (@tannerfox) January 31, 2017
Rest in peace, Club Penguin.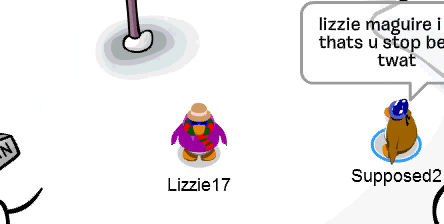 via giphy.com