The Internet Just Turned This Brazilian Alligator Into A Meme And She Is Everything
19 June 2017, 16:26 | Updated: 19 June 2017, 16:32
Someone call The Babadook and let him know he's cancelled.
Less than two weeks after The Badabook was adopted as a gay icon just in time for Pride Month, he has been replaced by a Cuca, a sassy alligator (she's not a crocodile, ok?) who looks like she'd be the one to receive the dreaded villain edit on RuPaul's Drag Race. Yes, Cuca - the subject of all those hilarious GIFs on your timeline - has arrived and she is EVERYTHINGGGG.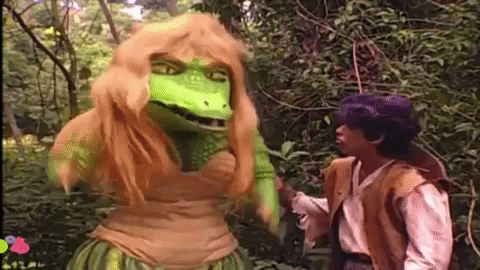 via giphy.com
Where did Cuca come from?
Cuca, a witch who manifests as an alligator wearing a blonde wig, appeared on a Brazilian children's TV show called Sitio do Picapau Amarelo in 2001 until 2006 but she's actually been around for a lot longer than that. Your new icon first made waves in Brazil back in 1921 and has been a cultural icon ever since.
WHO IS CUCA? Here's all you need to know about the next great gay icon: pic.twitter.com/yQTkAPKfTM

— Mike T (@majtague) June 16, 2017
The first few appearances of Cuca on social media happened on June 15th...
"Da done done
The sun done
Yep the sun done
Came up but we still up in dungeon
Da done done
Yep in London" pic.twitter.com/mZmBKSi2p1

— MrVicks (@MrVicks) June 15, 2017
And the rest, as they say, is HERstory.
"PINK WIG, THICC ASS, GIVE EM WHIPLASH! I THINK BIG, GET CASH, MAKE EM BLINK FAST!" pic.twitter.com/wINKbXWdDN

— ㅤ (@twinksage) June 15, 2017
Someone call the Babadook and tell him that he's been cancelledT.
gay twitter: babadook is the new gay icon!!!

three days later: pic.twitter.com/9pF9kjq4w7

— T. Kyle (@tkylemac) June 16, 2017
Cuca is literally the sassiest, shadiest Alligator you will ever met.
"Now bitch you know I ain't one to gossip so you didn't hear this from me let's be clear on THAT" pic.twitter.com/Xl2x3D0hft

— Demi Lobotomy (@shookshack) June 16, 2017
She gives approximately ZERO fucks and WILL come for your man.
B I C T...H pic.twitter.com/50oWiFlU1Z

— miss Cuca (@AmericanHunty) June 15, 2017
Miss Cuca has been already been adopted by the Drag Race community.
Hola mis amores! Would you like to see my cuca?! pic.twitter.com/vl4y4i27Yl

— miss Cuca (@AmericanHunty) June 16, 2017
"It's a lip sync, what part of that do you not understand?"
"GREEDY! Ooh! You know that I'm greedy for love." pic.twitter.com/Be94xEMWPm

— Mike T (@majtague) June 16, 2017
Some have even compared her obvious penchant for tea to that of Queen Wendy Williams.
I am truly sick of y'all at this point pic.twitter.com/AtLDlFXbYF

— HOOD VOGUE (@kxyonn) June 16, 2017
Cuca has even made it into a Ditty remix.
Y'all have no idea how pleased I am with myself LMFAO #Cuca pic.twitter.com/I5XoLFum1o

— miss Cuca (@AmericanHunty) June 16, 2017
Cuca Horror Story: Coven
Cuca Horror Story: Coven pic.twitter.com/nd4QvtqlzN

— AHS Brasil (@AHSBrasil) June 16, 2017
She may have been around for almost 100 years but she know's what's good.
Miley what's good? pic.twitter.com/x1SmCEGzDL

— Uma Kompton (@KomptonMusic) June 16, 2017
Long live Miss Cuca.
First #Babadook and now #Cuca we are truly living in the golden age of gay icons pic.twitter.com/FR206n6Axr

— Richard Logan (@richardlogan89) June 16, 2017
____ ____ ____ ____ ____
Listen to the #PopBuzzPodcast with Camila Cabello right here or subscribe for free on iTunes to get new episodes sent straight to your phone every Friday.