Is Everyone Officially Over Social Media?
27 November 2015, 16:15 | Updated: 8 May 2017, 17:09
Is this the end of civilization as we know it?
If you're reading this, you've probably been on social media for as long as you can remember. Maybe you started off by organising your Myspace top 8, or perhaps Bebo was more your speed. Then came Facebook, and Twitter, and Tumblr, and Pinterest, and Instagram, and Snapchat and every other app in our roster of things that keeps us occupied.
But I'd like to propose something--and it's a little radical here: What if we've all started to develop social media fatigue. It's a new trendy topic to ponder because it's so outrageous. Us? Millennials? Tired of social media? As scandalous as the idea may seem, there certainly is merit in the claim.
Millennials were early adopters. We were the first in our households to sign up for Facebook and the first to unlock the potential of apps like Twitter and Instagram. The experience of living in an online world is no longer special. After about a decade spent on various websites that do virtually the same thing, opening the Facebook app on your phone just seems like you're going through the motions.
I briefly deactivated my Facebook in 2010 for a period lasting roughly six months. I was surprised at how much I didn't miss it and how much other people seemed to be obsessed with the fact that I'd "quit" Facebook. Now, quitting Facebook and Twitter isn't a rare occurrence.
Childish Gambino quit social media late last year and Jaden Smith followed him into the abyss, abandoning Facebook for good in early 2015. It's not just the boys who are doing it either. In September, Girls creator, Lena Dunham briefly said goodbye to Twitter. It is a revolution? Well, maybe not. Is a movement? Probably. And here's why.
Thinking of quitting social media because everything I see makes me frustrated or upset.

— Nic (@nicarsonn) November 16, 2015
It's the fact that everything sucks. And social media just highlights the fact that everything is the worst. If you're not looking at your ex's new baby on Facebook then you're looking at a super racist Donald Trump tweet and if you're not looking at a super racist Donald Trump tweet then you're looking at an Instagram post about "thots" and if you're not looking at an Instagram post about thots then you're literally asleep. It is exhausting.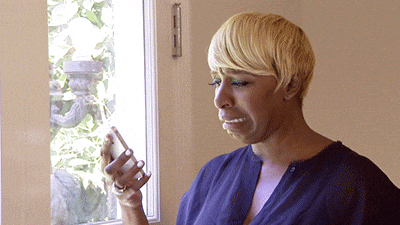 One Reddit user who deleted their social accounts wrote, "It's been about six months since I deleted all my social networking accounts and I can say without hesitation that it's been for the better, both emotionally and relationally. (sic)".
So, while there are people who force themselves to delete their social media accounts to increase productivity or escape the negativity, there are people who can't go half an hour without looking at one account or another. The reason so many young people are quitting social media has more to do with how they interact with content and less to with a generational pandemic.
But I'm not suggesting that everyone delete their social media accounts. At this point, we've come way too far. It would be like asking a cave man to delete fire. We're used to the thing now. All I'm saying is that it's okay to kind of hate the thing you love. Kind of like how all parents secretly hate their kids. It's too late now. We're stuck with it.